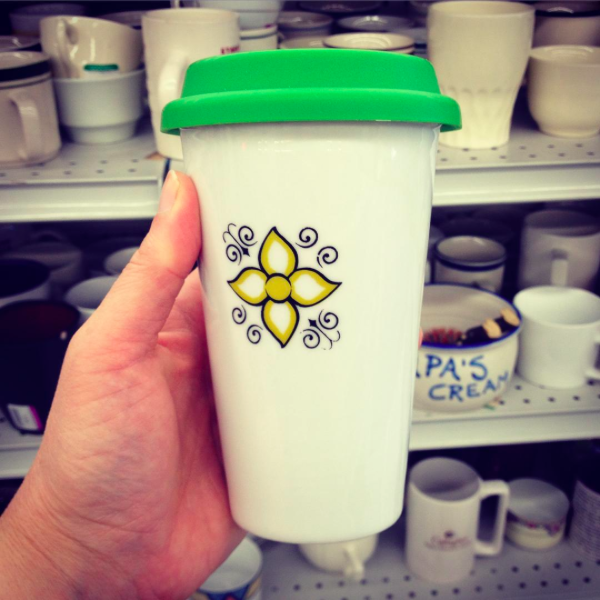 I was able to replace my broken ceramic travel mug with almost zero effort. I saved the silicone lid, which I brought with me to Goodwill. Like Prince Charming and the glass slipper, I quickly located my Cinderella. A buck-ninety-nine later, and the two of us are living happily ever after. (Or until I break this one.)
I stopped at The Grocery Outlet this morning and was able to fill two reusable bags with food for only $16.49. What did I buy? Two jars of natural peanut butter, one jar of jam, one huge bag of corn flakes, red peppers, broccoli, two cans of diced tomatoes, three containers of frozen chocolate custard, two gingerbread cookie mixes and eight yogurts.
I ran errands with my son yesterday which included Costco. We gassed up the Prius for $1.79/gallon and then bought nothing more than a bag of cat litter that was heavier than sin Thor's hammer. Also, we walked right past the food court without even breaking our stride.
I stocked up on Tillamook cheese, as it's on sale at Fred Meyer right now for $5.49/2-lb loaf. I even Instagrammed a photo of them stacked Jenga-style. Because yeah, I'm cool that way.
I put together our February budget, I'm delaying a haircut until next month, (not in the January budget) I took a small amount of leftover hamburger to flavor a large pot of pasta sauce and I didn't buy a Lear Jet.
Now your turn. What frugal things have you been up to?
Katy Wolk-Stanley
"Use it up, wear it out, make it do or do without."