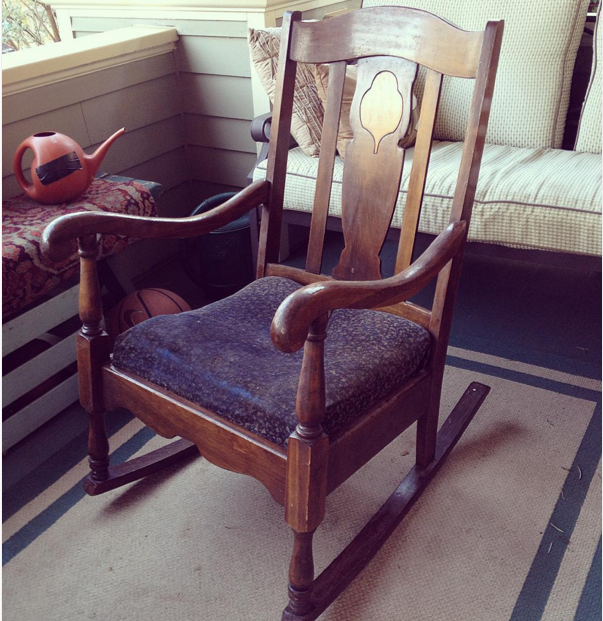 I nabbed a free antique rocking chair that someone had put out for free. It was a bit damp from being out all night in Oregon, but I gave it a through wipe down and it's currently sitting on my covered porch to air out a bit. It'll be easy enough to replace the seat cushion fabric, (hello, staple gun!) and I'll likely just choose something classic like velvet. I'm not sure whether I'll keep it or sell it for the ol' college fund yet, but for now I'm just enjoying it. And yes, it's nice and sturdy!
A Facebook friend of mine posted that she and her husband were clearing stuff from their home to make room for her mother-in-law to move in. Included was a full-size mattress and boxspring. My older son has a twin bed in his room, but there would be room for a larger bed, so I contacted my friend. We already have a nice antique full-size bed frame in the basement, (which we got for free a million years ago.) This will help transition my son's room into a more useable space now that he no longer lives at home. I'll be picking it up this afternoon!
I went to my local DMV to renew my expired license yesterday, and was happy to discover that there was no late fee. Whew . . .
I prepared a delicious burrito meal last night that included slow cooked black beans, caramelized onions, sale Tillamook cheese, lettuce, avocado and homemade salsa. I may have had seconds.
I cut forsythia for a flower arrangement, my doctor gave me a year's worth of free medication, I posted a few things on my buy-nothing group and I didn't buy a Lear Jet.
Now your turn. What frugal things have you been up to?
Katy Wolk-Stanley
"Use it up, wear it out, make it do or do without."