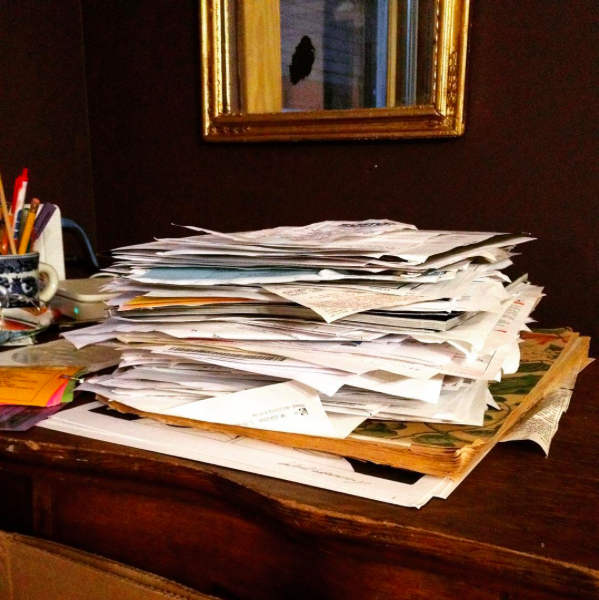 I had the best of intentions to methodically attack my pile of miscellaneous papers yesterday, heck I even wrote an entire blog post about scheduling a T.C.B. (taking care of bidness) day. But I didn't take into account that I needed to attend a 2-1/2 hour CPR class and drive across town to pick up a free mattress and boxsprings. That, plus write a blog post, make dinner and daydream into the middle distance.
So . . . there was zero organizing action yesterday. Paper or otherwise. Today? It's nice and sunny outside, so I'm organizing and decluttering my back porch, tidying the front yard and transplanting a few garden volunteers. (Sunny winter days in Portland, Oregon need to be taken full advantage of!) Of course I'm also planning dinner, (black bean burgers) doing laundry and what's that other thing? Oh yeah . . . parenting.
I work tomorrow and have social plans on Friday, but surely can sneak in the three hours or so that this task will require before the end of the month.
Why am I writing this blog post? Because many bloggers present a home life that is 100% organized and show ready at a moment's notice. Their Pinterest-tastic lives make readers feel straight-up crappy. It's why I've stopped following a few blogs. They're not real and I always felt worse after reading them, not better.
So today I've got a trunk full of recyclables to drop off, dirt under my fingernails and a looming stack of papers that can wait a few more days. I already took care of my expired driver's license, so there's nothing overdue that I'm aware of.
Real life. You're welcome.
Katy Wolk-Stanley
"Use it up, wear it out, make it do or do without."
Click 
HERE
 to follow The Non-Consumer Advocate on 
Twitter
.
Click 
HERE
 to follow The Non-Consumer Advocate on 
Instagram.
Click 
HERE
 to join The Non-Consumer Advocate 
Facebook
 group.
Click 
HERE
 to follow The Non-Consumer Advocate on 
Pinterest.