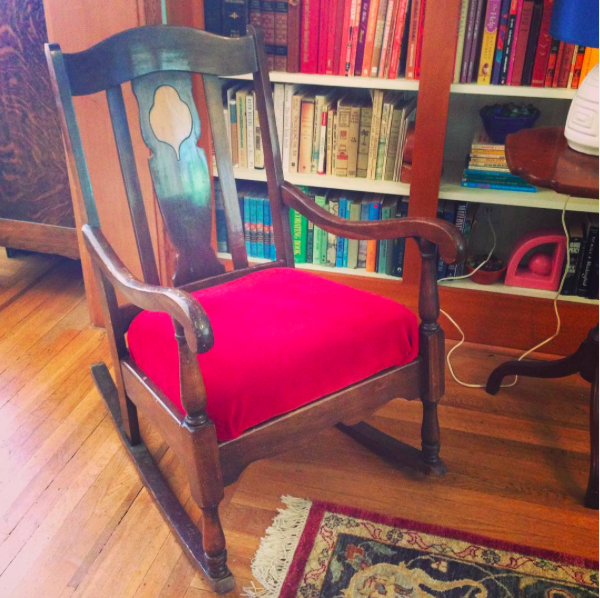 Screen-Free Week has ended, and although my emphasis was on minimizing screen time, I was absolutely continuing with my frugal endeavors. Some impressive, but mostly not. So to make up for a week without The Non-Consumer Advocate, I present to you . . . thirty-five frugal things!
I took a small bag of unwanted household items to my nearby consignment shop and was rewarded with $5.70.
I borrowed a book from one of the doulas at work and read through it in under 24 hours.
I brought home a ton of great food leftover from one of my mother's guest cottage tenants. This included craft beer, so my husband was super on board!
My son and I went to Goodwill and I scored a nice top for $3.50. (It was the half-off color.) I had a gift card leftover from Christmas, so there was zero expense!
I made a big batch of The Frugal Girl's fish cakes which fed us for a couple of days.
Work was slow and I could have gone home, but instead I sat down to do online education until I was needed to help with a delivery.
I learned that our new contract has a special stipulation that resource nurses, (of which I am) get a bonus of an extra $1.25 per hour at the end of the year if we work more than 800 hours in that calendar year. I easy work more than 800 hours, so hello . . . big ol' bonus!
I reupholstered my curbside rocking chair using a piece of velvet from my mother's basement. I used a piece of foam that my friend Lise had given me. I then sold the chair through Craigslist for $50.
I listed a pair of Nike sweats on eBay. My son bought these pants at the Nike employee store for the low low price of only $50, (ha!) which annoyed me at the time. He later decided he didn't like how they fit.
I called the human resources department at my hospital to ask about some dormant PTO hours that sit in my account from when I worked at a same-system hospital. I'm unable to use them with my current hospital's contract, but I did earn them. I'm hoping to get them cashed out.
I drove over to one of my mother's guest cottages after a 12-1/2 hour shift to grab all the laundry. (My mother was out of town, so I managed the houses in her absence.) Doing the laundry at my house allowed me to be much more efficient with the tenant turnover.
I arranged for USPS to pick up an eBay package, which saved me an errand. This service is free.
I watered my hanging fuchsia baskets with leftover water from drinking glasses, water bottles and cooled tea kettle water.
My son's Nike pants sold in eBay for $71! I guess he's not the only trend follower!
I mailed in the last of our persnickety paperwork for the FAFSA. (Financial aid information.)
I cleaned my mother's guest cottage.
My son and I stopped at Safeway for a treat. We had planned on buying a half-gallon of ice cream, but instead chose a single donut for him.
I went to my credit union to deposit cash. I found four or five foreign coins in the coin return and had the teller print free temporary checks which should last us for a year.
I didn't have a large enough padded envelope for the sweat pants, so I made my own packaging from some styrofoam-y sheets and an inside out paper grocery bag. Looked good, actually.
I went for a walk with my friend Lise, which included dropping off plastics recycling plus bottles and cans.
Lise and I passes a number of free piles. I grabbed some useful household items, as I know that my consignment shop will almost always buy that category.
I found a dime while walking with Lise.
I went to Fred Meyer to buy cookies for the new guest cottage tenant. Chocolate covered digestive biscuits were 2-4-1, so my family got a sleeve of them as well!
I cut flowers from my own garden instead of buying them. (We always have fresh flowers at the guest cottages as special welcome.)
I brought more stuff to the consignment shop and got $9.70. This included the free pile things and some lovely but useless gifts we received from our Japanese exchange student.
I sold a $3 thrifted cast iron pan for $15 through Craigslist.
I submitted a Clark Howard article and proposed four new articles.
I came across a free pile while on my way to the library and scored a brand new looking men's suit that I'll get tailored to fit my twenty-year-old son! The same brand and style sells for $500 new at Macy's, so hooray!
I checked out a library book from an author I'll be interviewing, plus a lovely little novel.
I got rid of a couple of nice but cluttery things through my local Buy Nothing Group.
I utilized a cute vintage enamel kitchen canister I already owned to use as a countertop compost bin. I'd been using an ugly Rubbermaid container for at least fifteen years, but had was craving something more attractive. It suddenly occurred to me that I already owned the perfect thing!
I used a free car wash voucher that I was given a few years ago, and I brought my son with me to make it more fun. (We always joke that the employees as "mermen" and the huge brushes are "kraken." Of course, we yell "release the kraken!" at the top of our lungs.) We don't need no stinking' Disneyland!!!
I needed a better way to organize the stuff under my kitchen sink, so I took a filthy plastic milk crate from the back porch and ran it through the dishwasher. Now, not only is my under sink area less of a disaster, my back porch is enjoyably less cluttered.
I potted up some rosemary that I'd rooted in a vase over my kitchen sink. This rosemary was snipped with permission from a neighbor's bush.
I didn't buy a Lear Jet.
Now your turn. What frugal things have you been up to?
Katy Wolk-Stanley
"Use it up, wear it out, make it do or do without."
Click HERE to follow The Non-Consumer Advocate on Twitter.
Click HERE to follow The Non-Consumer Advocate on Instagram.
Click HERE to join The Non-Consumer Advocate Facebook group.
Click HERE to follow The Non-Consumer Advocate on Pinterest.