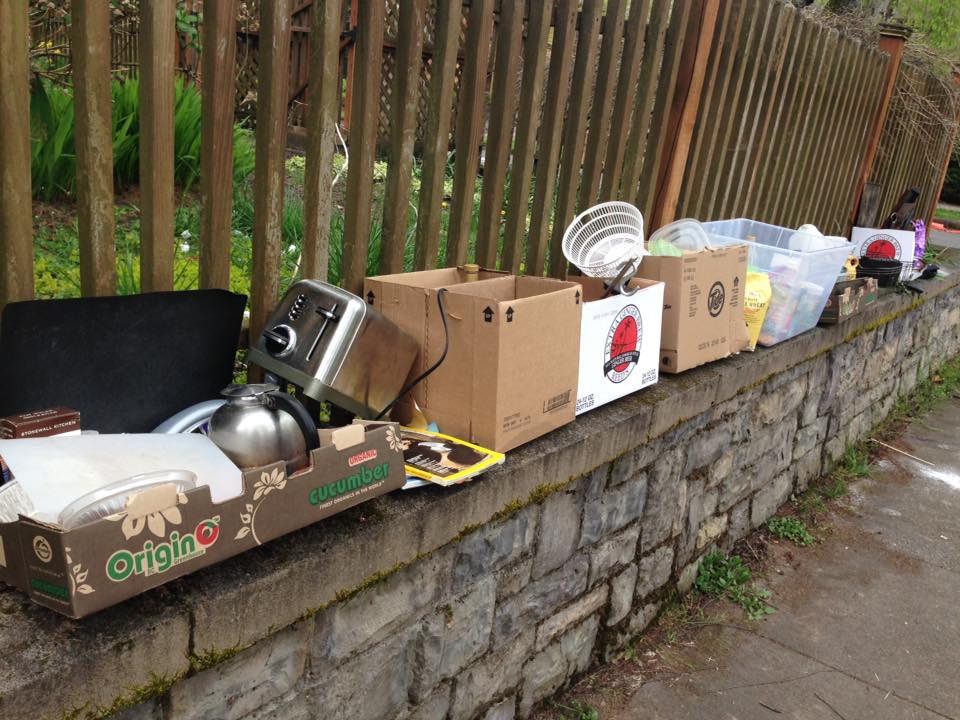 I brought home an armload of stuff that some neighbors had piled on top of their retaining wall. This included a dish drain, (nicer than my rusty one) two tins, a Cuisinart toaster, two full bags of sugar, a vintage pepper shaker, a bulk bottle of Windex and a stainless steel pasta server. Score!
My older son broke the zipper on his Jansport backpack, so I printed out the form to get it fixed for free. Yes, we'll pay the postage, but it's worth it to keep this otherwise sturdy and functional item in circulation. I'm pretty sure that my husband bought this backpack at Costco when my son was a fourth grader, but they do have lifetime warranties on their items!
My younger son ended up not activating his driver's license, as there was a surprise test he needed to take as an under eighteen-year-old driver. This is actually good, as it turns out it was going to cost an additional $186-per-month to add him onto our USAA insurance as a secondary driver. He was going to pay this himself, but holy moly, that is an enormous amount of money!!! We can now take the time to shop around for a better rate.
My twenty-year-old son and I sat down last night to take care of random business before he headed back to college this morning. It wasn't what he was in the mood for, but he can now cross filing his taxes and applying for summer employment from his to-do list. It would easy for me to do all this for him, but it's very important to me that he hones these important adult life skills. (He's been working as a lifeguard since age fifteen, but has to reapply each year.) He's being rewarded with a generous tax refund as his reward.
My older son and I had a conversation about which college meal plan is the best for him. We've been paying for the full meal plan, but he's hardly ever getting to breakfast. We're switching him to a lower plan which will provide lunch and dinner, plus an additional ten breakfasts per term, and will save us $270.
Now your turn. What frugal things have you been up to?
Katy Wolk-Stanley
"Use it up, wear it out, make it do or do without."
Click 
HERE
 to follow The Non-Consumer Advocate on 
Twitter
.
Click 
HERE
 to follow The Non-Consumer Advocate on 
Instagram.
Click 
HERE
 to join The Non-Consumer Advocate 
Facebook
 group.
Click 
HERE
 to follow The Non-Consumer Advocate on 
Pinterest.