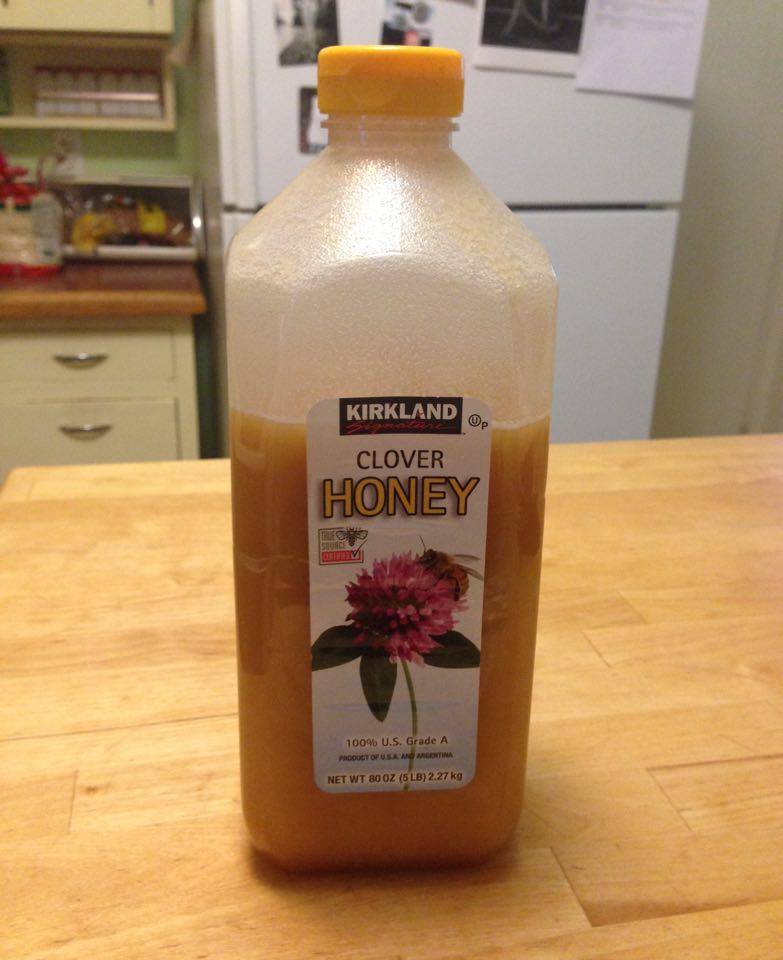 I helped my mother clean one of her guest cottages last night and came home with a few goodies. This included two boxes of cereal, a small jar of garlic powder and the above large bottle of Costco brand honey. These sell new for $13.99, which was fresh in my mind since I'd just stocked up yesterday. Arghhh!! Yes, it was crystallized, but we're due for record high temperatures here in Portland over the next few days, so I simply set it on our sunny porch to re-liquify. I'm 100% unconcerned that this honey was marked with a sell-by date of January 2016, as honey actually has an eternal shelf life! Too bad I'd already opened the brand new container that I'd  just bought!
I enjoyed a nice walk and chat with my friend Lise the other day, which I jokingly referred to as "shopping with my friend Lise." Why "shopping?" The sunny Portland weather has prompted residents to put their excess stuff out for free again, which doesn't happen much in rainy weather, (we must have stopped at four promising piles!) I ended up buying gleaning two stainless steel forks, (perfect for work lunches) and a perfectly nice wooden beadboard style wastebasket for my older son's room. (He took his wastebasket with him to college.) Of course, I also found a penny on the sidewalk.
I'm assembling a couple pans of enchiladas today as I recently stocked up on El Pato brand green enchilada sauce at The Grocery Outlet. I'm cooking beans in the slow cooker, rice in the rice cooker and already have a nice supply of Tillamook white cheddar cheese from when it was on sale a couple of weeks ago. Not only will we have a premade dinner for later this week, we'll also enjoy a backup meal in the freezer for one of those inevitable evenings where dinner prep sounds as appealing as an unanesthetized root canal. Having a few frozen meals saves us from expensive takeout and restaurants.
My stepfather is retiring from his legal practice and has a number of random items that are up for grabs. Although I could really accept a ton of stuff, I've only accepted an unopened ream of paper. Free stuff, but not a hoarder amount of free stuff.
I had somehow accumulated too much plastic silverware, so I washed it all up and listed it on my Buy Nothing group. (I swear it multiplies in the night!) I never buy plastic silverware, so this was all stuff that somehow entered our orbit.
Now your turn. What frugal things have you been up to?
Katy Wolk-Stanley
"Use it up, wear it out, make it do or do without."