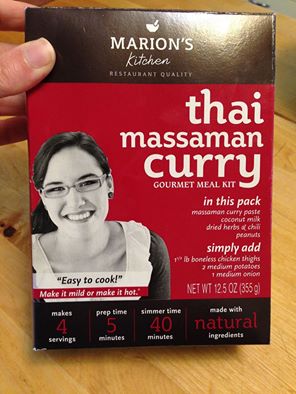 I prepared curry from a fancy $1.99 dinner kit that I picked up at The Grocery Outlet a few months ago. The instructions called for chicken, but I didn't have any on hand, so instead I diced potato and added peas and red pepper that I'd frozen last week from my EMS Week food freebies. Served over rice, it was absolutely delicious!
I'm planning a high school graduation party for my younger son. It's not until June 19th, but since I'll be working at the hospital the previous two days, I'm getting organized early. My goal is to avoid single use items, as well as keeping the party as inexpensive as possible. So far I've figured out that I can borrow extra silverware, a large folding table and a fire pit for s'mores. Food will be stuff I can pre-prepare and drinks will be simple like lemonade and flavored water. I used Evite for the invitations and have been sprucing up the backyard using nothing more than my own sweat equity. I've asked people to not bring gifts, as there's no point in keeping it frugal for our family, if that comes at a cost for our guests.
I renewed my library books, although one went overdue at a cost of 50¢.
I brought our May budget up to date, and put our June budget together. Next month will be tighter than usual, as there are a number of days where I am unavailable to work due to graduation events, a family wedding and driving down to Ashland, Oregon to pick up our college student. However, these are all wonderful moments in our life, so everything is good. Also, "tighter" simply means less money toward the college fund, rather than not enough money for expenses, which is pretty great place to be.
I didn't buy a Lear Jet.
Now your turn. What frugal things have you been up to?
Katy Wolk-Stanley
"Use it up, wear it out, make it do or do without."
Click HERE to follow The Non-Consumer Advocate on Twitter.
Click HERE to follow The Non-Consumer Advocate on Instagram.
Click HERE to join The Non-Consumer Advocate Facebook group.
Click HERE to follow The Non-Consumer Advocate on Pinterest.