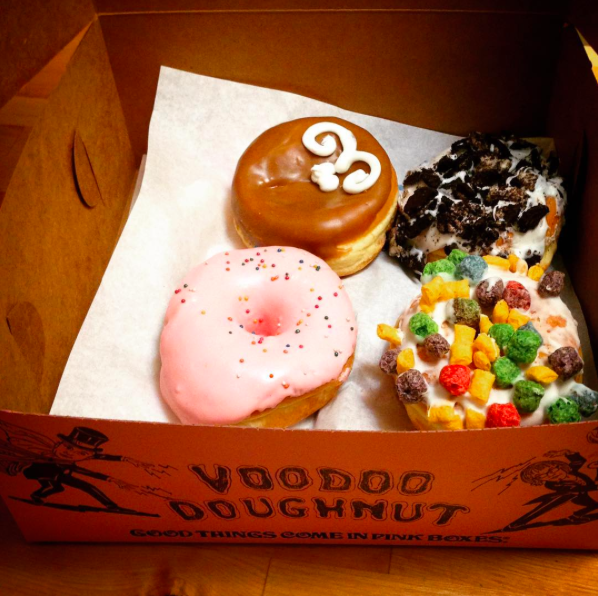 I stopped by Voodoo Donuts this afternoon to pick up a dozen donuts for my son to share with his dorm mates. For those who many not recall, my father was given a gift certificate for a year of free donuts, (a dozen per month) as a thank you for his fifty years of teaching at Portland State University. He's no donut fan, so he gave it to me. I'm also not a donut fan, so I try to get the donuts when we have large numbers of people to share with. I missed last month, but can now check this odd chore from my October to-do list.
The Pacific Northwest just came through a weekend of stormy weather that had been forecasted to be one of the worst storms on record. Our basement did flood, but since it's unfinished, it does no harm. Especially since I know from experience that flooding in my basement always seeps back underground. However, I was chatting with a neighbor who has a finished basement and was not so lucky. I'm relieved that our maple enormous tree didn't fall onto the house, and that we never even considered laying carpet in our basement. Oregon is wet, and water will always prevail.
Although I was tempted to treat ourselves to a restaurant meal this evening, I decided instead to cook at home. I went ahead and bought the ingredients for a pot roast, plus all the sides and regular groceries. I spent $34.31, which was much less than a restaurant meal would've been. We now have delicious leftovers to look forward to, as well as milk for our coffee and ingredients for future meals.
I've been successful in hustling up a few extra hospital shifts for next month. I still want to pick up two more, but we're usually desperate for extra nurses, so it should be no problem. Also, my continuing education inbox is fit to burst, so I can always come in and chip away at that without the stress of patient care.
I soaked an unused postage stamp from an envelope, my mother brought over ice cream last night, I batched errands this afternoon, I used fridge-frozen spinach to saute with eggs and I didn't buy a Lear Jet.
Now your turn. What frugal things have you been up to?
Katy Wolk-Stanley