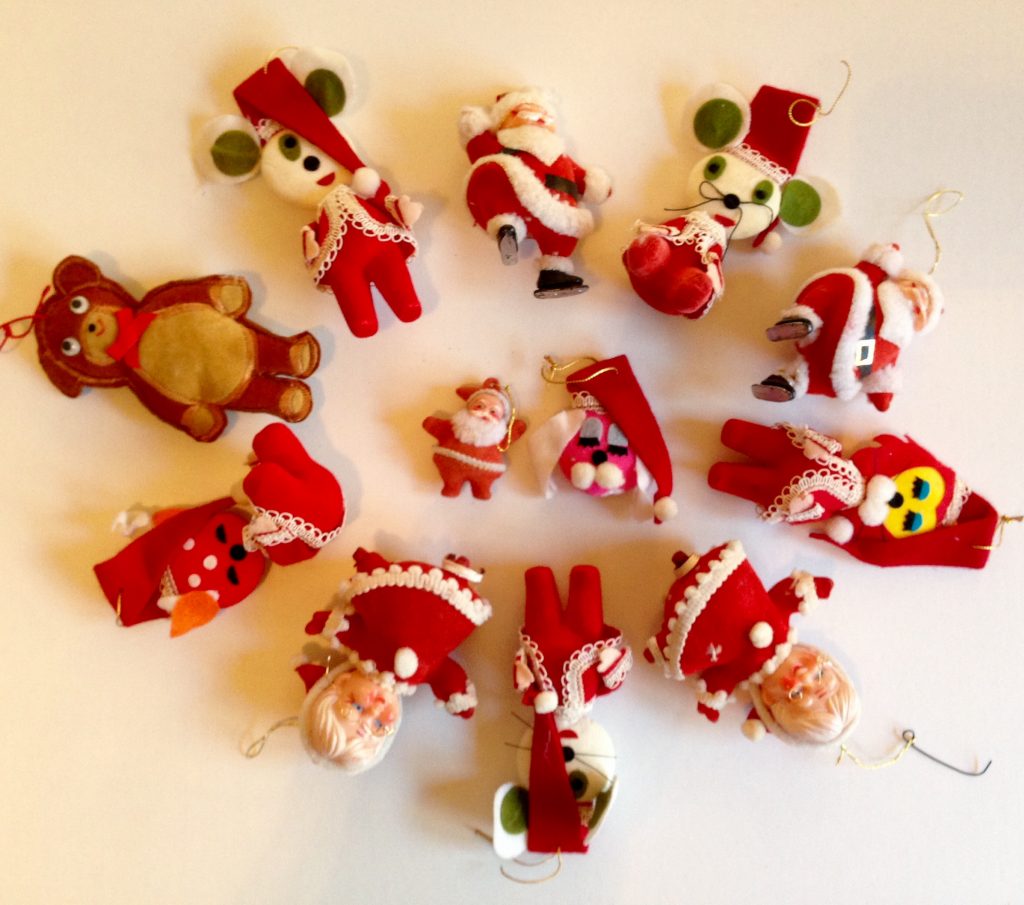 My sister and I spent yesterday running errands, which included dropping off a few donations at the New Rochelle Goodwill. (She lives in The Bronx, so it's easier to drive north to Westchester county than it is to drive south into Manhattan.) I found lots of great things to photograph for a future "Goodwill, Badwill, Questionable-will" blog post. But most importantly, I actually bought something, which was an Ibex brand merino wool black hoodie. It fits me like a dream and only set me back five dollars! These sell for $130 new, so this was a great score. I expect to wear this garment every day for the rest of the winter, so I just wanted to give ya'll a heads up!
We then stopped into a church thrift shop where I rifled through a huge basket of Christmas ornaments to pick out some adorable vintage specimens. I had hoped to use vintage ornaments for my holiday wreaths last week, so now I'll be ready for the next time I attempt this craft project. And the price for all these adorable ornaments? $2.50.
I spent a minutes or two on Yelp.com to find an Italian bakery near where my sister had a doctor's appointment. The west coast simply doesn't have the same kind of old school Italian businesses that can be found in the NYC area, so I like to take full advantage of the the cultural differences when I travel. Needless to say, it was money deliciously well spent. Plus, we were the only people there not speaking Italian, which was very cool.
I relisted a couple of things on eBay that had expired.
I e-mailed my boss to point out that a day that I'd called in sick was showing up as "unpaid." She was able to go into the system and fix this error, which is important since it was the only shift for my next paycheck. I also signed up for the next hospital schedule and was able to get two 12-hour shifts per week, which is my goal.
Now your turn. What frugal things have you been up to?
Katy Wolk-Stanley
"Use it up, wear it out, make it do or do without."
Click HERE to follow The Non-Consumer Advocate on Twitter.
Click HERE to follow The Non-Consumer Advocate on Instagram.
Click HERE to join The Non-Consumer Advocate Facebook group.
Click HERE to follow The Non-Consumer Advocate on Pinterest.