My sister and I ended up making two stops during my week in NYC to the New Rochelle Goodwill, which is conveniently located between The Bronx and her favorite Trader Joe's just north of the city.
She had a couple of things to donate, so we walked around the side of the store to the attended donation area and were met with this sad site. Yes, an overflowing dumpster filled with unsaleable donations and straight up garbage: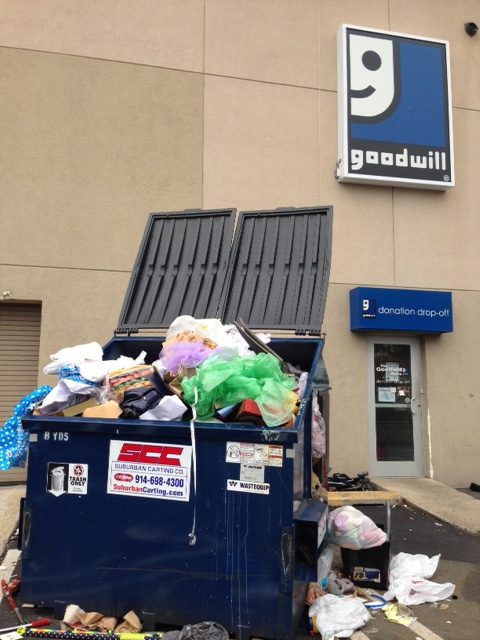 Around the back of the dumpster was a shopping cart filled with vintage dishes. When asked, the employee confirmed that everything was destined for the landfill.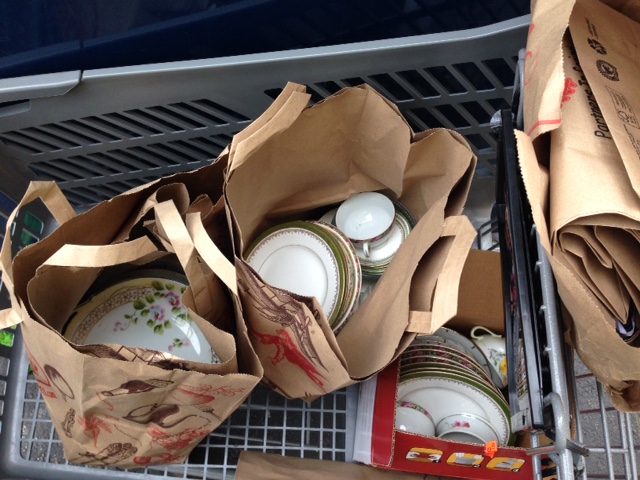 Look how pretty it all is!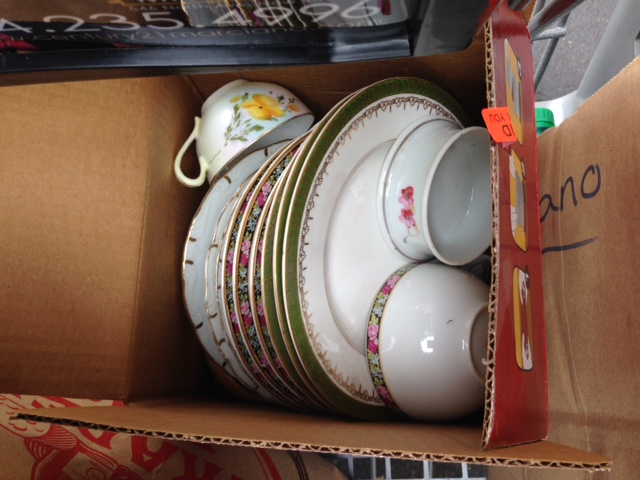 Had I been in Portland I would have loaded these dishes into my car. I know that not everyone enjoys a vintage aesthetic, but at least I could have donated them to one of my local charities that helps domestic violence victims or recent immigrants to set up their new homes.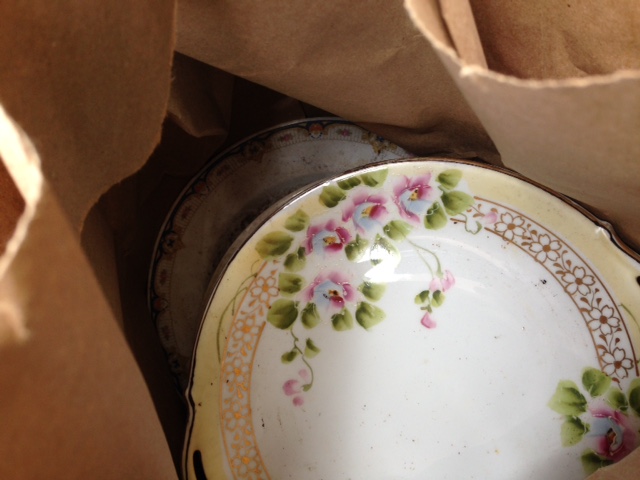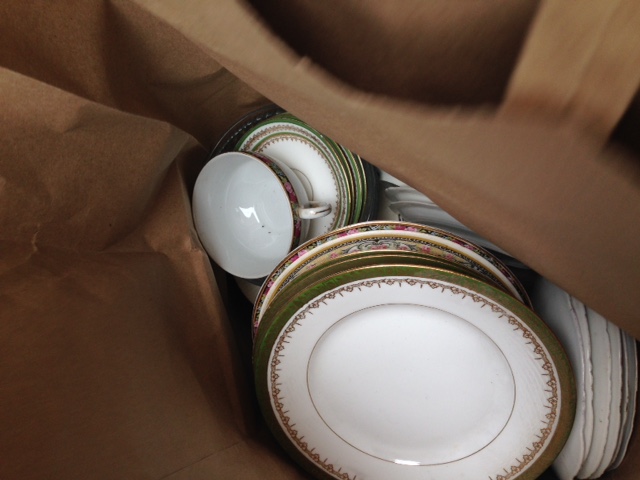 My sister ended up choosing one pretty plate to bring home, as it's impossible for one person to save everything from the landfill.
It would easy to fault Goodwill for not selling every single donation, but the store was already stuffed to the gills. The problem is not with an organization that's working to resell our unwanted goods, the fault is with our society's throwaway mentality. We're encouraged to buy new clothing, toys and decor each and every season, as well as to donate to those in need in order to create space in our closets for exciting new stuff.
House too cluttered to accommodate your new purchases or gifts? Just gather up your unwanted stuff and donate it to Goodwill! It turns out that Goodwill can only do so much to find buyers for your donations. Thrift stores are burdened with the straight up tonnage of fast fashion, which includes household goods beyond the closet. People don't want to buy vintage quality necessities, when it's cheap or even cheaper to pick up trendy new stuff at Kohl's, Walmart or The Dollar Tree.
We aren't bonding with the things we own, because it's so cheap to replace. Although the wealth of used Lord & Taylor, Talbots, Anne Klein and other high end brands at particular Goodwill demonstrated that people are also quick to donate their expensive clothing as well.
I took approximately three minutes to find expensive brands to photograph and easily came up with these examples: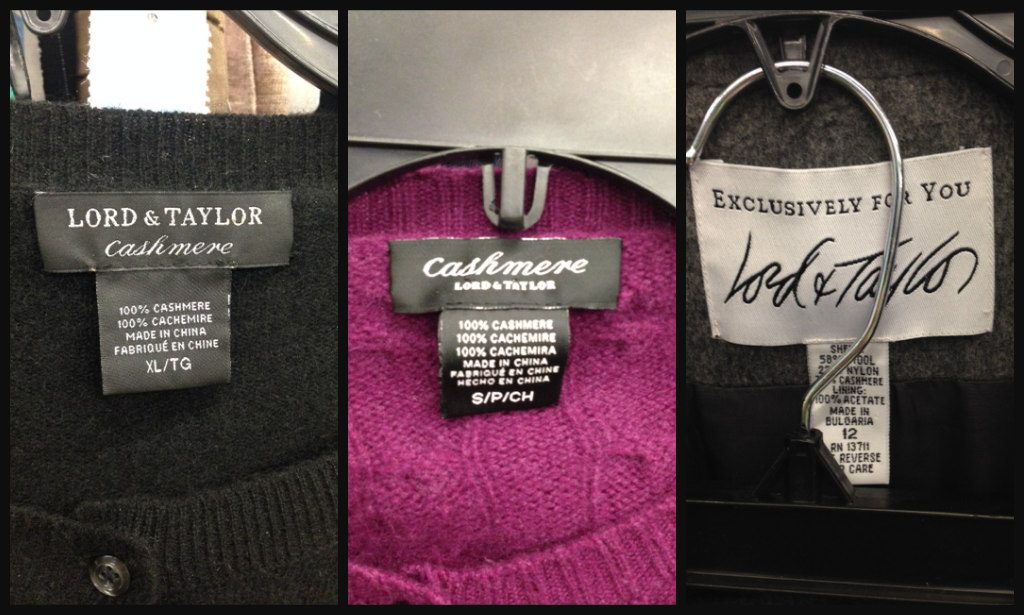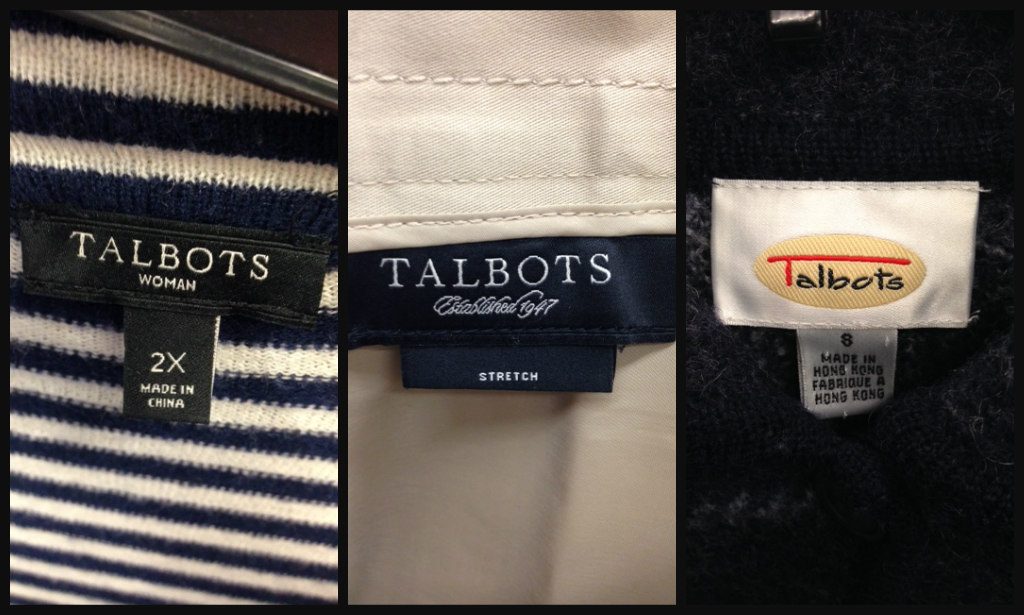 Considering that a Lord & Taylor cashmere sweater sells for $140, it's not just H&M or Old Navy clothes that lose their luster once they're no longer new.
What's the solution? Choose to buy used, as it spares our landfills, and then simply buy less. You likely own almost everything you need, and you can step away from the "yay, new stuff!" mindset. Irresponsible manufacturing of consumer goods is only supported when people like you and me spend our dollars on this stuff.
Spend mindfully. Buy quality timeless items that won't go out of style. Choose local businesses that support your own community. Make a stand and join the buy-nothing-new Compact.
Be a citizen, not a consumer.
Katy Wolk-Stanley