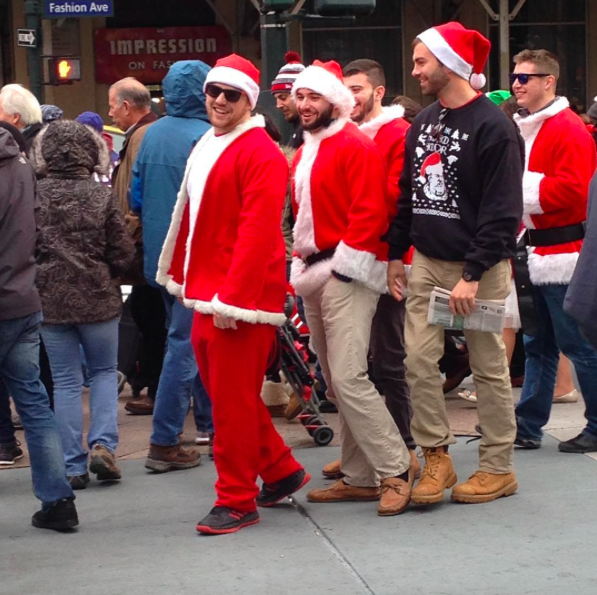 I set up the 9-foot tall artificial Christmas tree that I had garbage picked while dropping my son off at college in September. I did buy a stand for it from the company, but that'll pay for itself in two years. My older son was aghast at the very notion of an artificial tree, and asked "But what about the smell?!" To which I replied, "Want to smell a tree? Go outside." I really am mother of the year.
I logged onto my library's website to renew all my checked out materials, as well as to put a couple of books on hold. Both of the books that I wanted were already at my branch, so I'll walk over this afternoon to pick them up. Have I ever mentioned how much I love libraries?
I took public transportation from my sister's house in The Bronx to Newark airport, which was made especially interesting by the addition of everyone dressed as Santa for Santacon. People dressed as Santa in order to go bar hopping in NYC? That's some mighty fine people watching! Some might say a million drunk Santas are even better than an expensive Broadway show.
I added the 43¢ in NYC found change to my Found Change Challenge  jar. It actually should have been 25¢ more, but I used a quarter that I found in a parking meter to pay for . . . parking.
I brought my own bagels and cream cheese to eat during my six hour flight, I downloaded two episodes of The Crown from Netflix to watch on airplane mode instead of renting a $10 movie screen thingy, (iPad?) and I didn't buy a sexy Mrs. Santa suit.
Now your turn. What frugal things have you been up to?
Katy Wolk-Stanley