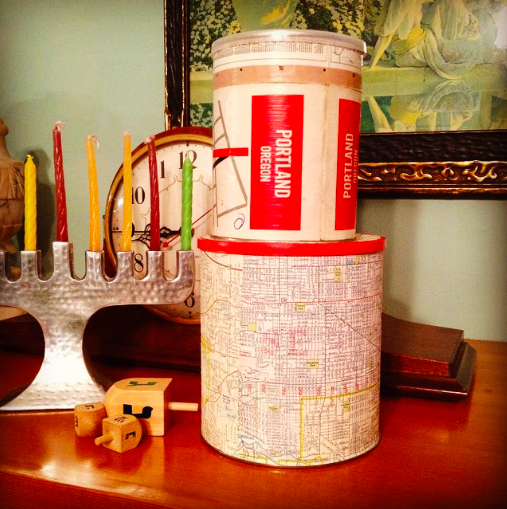 My friend Sasha is coming over this morning, and I've set aside my $5-for-$10 Starbucks Groupon from a few weeks ago. I'd actually given it to my husband as a gift, but he kept not using it and I figured it would do me more good than him, as it will keep me from spending any money during this get together. Plus, since it's hard to spend $10 at Starbucks, there will be enough to treat a friend!
Although I'm still doing my Zero Dollar Christmas, I did splurge on a $1 item for my sister's upcoming birthday. I was unable to resist this particular Goodwill goodie, as it was only $1 plus is something she collects. (And it was the half-off color!) I need to get her family's package in the mail to accommodate all their birthdays, (December 16th and 23rd) so time is of the essence.
My husband needed to buy new tires and brakes for his bicycle, so I reminded him to scope out our Chinook Book before making the purchase. It turns out that there indeed was a coupon for the bike shop, and the 20%-off saved him $17.60 from the $88 he spent. Since he bicycle commutes to work, this purchase was a high priority.
I used the $10-off-$50 Safeway coupon to do a big grocery shopping trip and by using additional manufacturer's coupons and their Just4U electronic coupons, I was able to save $47.22 from my $50.74 total. Plus, I was able to get two bricks of cream cheese and two tubes of toothpaste for free. (For those of you who don't use coupons because you see them mostly being for junk food, I used coupons for carrots, dried pasta, cream cheese, toothpaste and cereal.) An additional frugal thing is that the bananas and tangelos started to rot almost immediately, so I brought my receipt back to the store and had them refund me $6.79 in cash.
I've been emulating a mildly talent second grader and doing a few craft projects. Using this photo for inspiration, I assembled a square wreath using twigs, pine cones, rope and greenery, and then made a few cookie canisters using old cocoa tins, thrifted vintage maps and Mod-Podge. I spent no money on the projects, and the results were not-hideous enough to take a bit of pride in. No one is going to pin them on Pinterest, but the projects were still fun to do. Plus you know, free . . .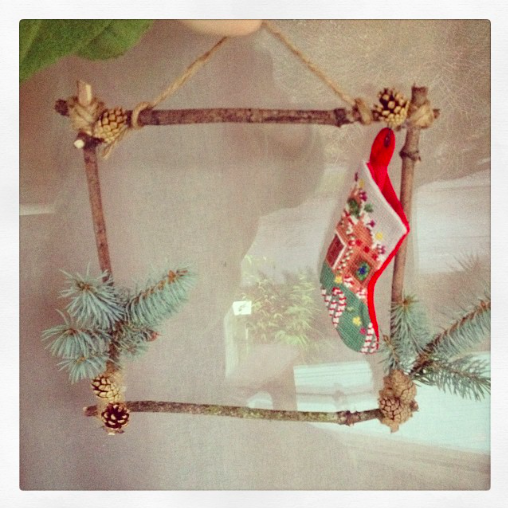 Now your turn. What frugal things have you been up to?
Sorry that my blogging has been spotty lately, but we've had some family stuff going on that's claiming 100% of my attention.
Katy Wolk-Stanley
"Use it up, wear it out, make it do or do without."