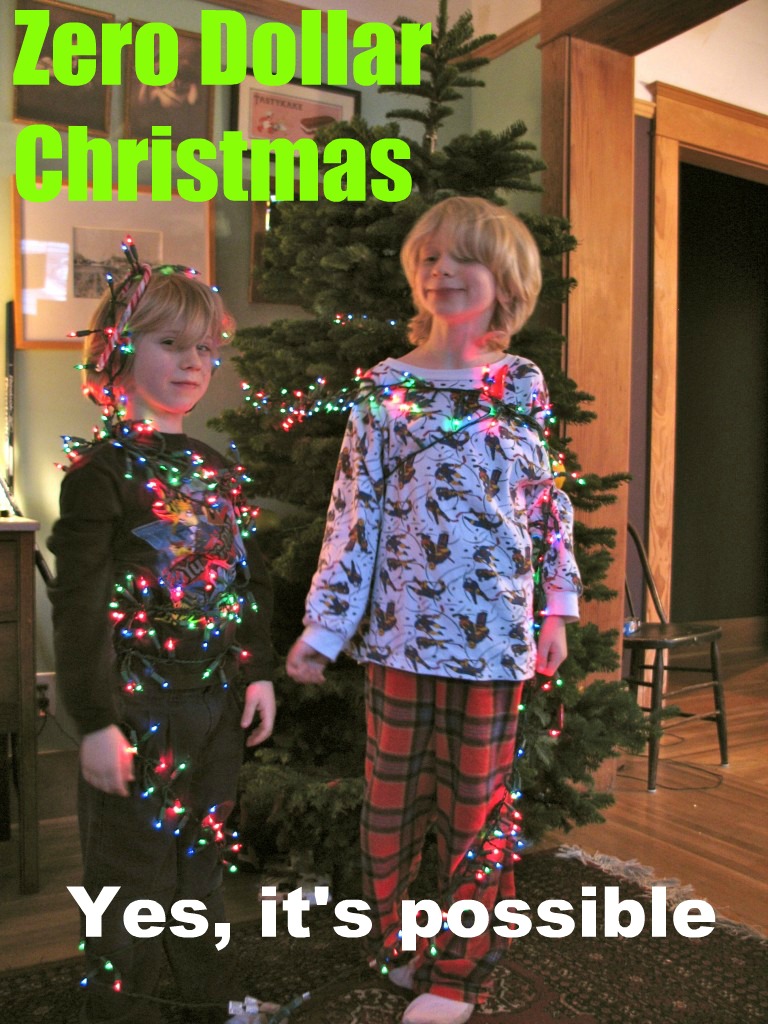 I'm from the school of thought that believes that having limitations in life breeds creativity. Sometimes those limitations are yours by choice, but more often they aren't. Either way, you can choose to bemoan your limitations or you can embrace them.
I choose to embrace my financial limitations.
Challenging myself to come up with creative frugal hacks happens all year long, but my creativity really blooms come gift giving season. (And in a family that includes seven holiday birthdays, I really need to put on my thinking cap!) I normally don't set a concrete budget for myself, but this year I've decided to aim for a zero dollar Christmas/Chanukah/birthday season.
Yes, you read that right. Zero dollars, as in nothing, nada, bupkis.
Will I be able to achieve this goal? Maybe yes, maybe no, but it certainly won't happen unless I try.
Here's what I'll be doing to meet this insane goal:
1) I'm using up some random frequent flier miles through Mags For Miles to get free magazine subscriptions. I hardly ever travel, but when I do, I fly with whoever is cheapest and I have zero brand loyalty. Also, my most recent flights have been randomly booked through my husband's employer or The Today Show. I always make sure to sign up for a frequent flier accounts, but that doesn't mean I'll ever accrue enough miles to earn a free ticket. These miles then sit dormant. However, I can spend my miles on free magazine subscriptions! My athletic 15-year-old nephew will be receiving a subscription to Sports Illustrated, (a $39 value) as will my 16-year-old son. This service works for almost all major airlines, and there are many magazines to choose from.
2) I'm registering for American Express' Small Business Saturday. This program, which runs the Saturday after Thanksgiving (November 29th) rewards card holders who shop at their registered locally owned businesses. For each $10 you spend, American Express will refund you $10. Up to three times! A quick look at my zip code showed over 100 "shopping" options. This didn't even include the dining, entertainment, travel or services categories! And since my husband and I both hold cards, we'll be able to double our refunds! That's $60 free dollars! I plan to buy $10 gift certificates at different businesses, and then let the recipient shop at their own convenience. (BTW, these make great stocking stuffers!)
3) I will be gifting things that came my way for free, and here are three examples so far:
My neighbor passed along a brand new Pendleton Wool board shirt, which was too big for him. (A $120 value.) My husband gets itchy from these shirts, but his brother loves them! And since he's one of the six members of our immediately family with a December/January birthday, he'll be receiving the shirt.

I found a lovely child-size silver and natural stone bracelet on the ground, which will perfectly pair with a review book I received for free about how to make your own earrings. I'll add some extra beads I already have on hand, and present it all together to my ten-year-old niece.

My daughter is a true artist, yet she carries either my husband's ancient and enormous art school portfolio or a paper one leftover from her high school advanced placement art class. So when I spied a perfect medium sized (and new looking) portfolio in a free pile, I snapped it up. I quickly determined that to buy it new would have set me back $45!
4) I will be bringing unwanted books into Powell's Bookstore in exchange for gift cards and store credit. I know I have an enormous box in my father's attic, which I'll sacrifice to the goal of my $0 Christmas! Also, Powell's sells much much more than books, so I'll be able to pick up various small gifts this way. (Why I am using the books I've stored at my father's house? Because I've already gleaned all unwanted books from my own home!)
5) I will be giving away some items that I already own. And before you start picturing bags of unmatched socks, you need to know that I'll be gifting some wonderful items. A fantastic blank vintage scrapbook for my sister is one example, but the rest I'll keep under my hat as family members have been known to read my blog.
6) I do all my internet searches through Swagbucks, which allows me to earn $5 Amazon gift cards. It's not a lot, but I'm able to accrue enough gift cards to make it worth my while. (I also use my mother's Amazon Prime account to get the free shipping.)
7) My husband has one of those congratulations-on-ten-years-of-employment gift catalogs. He gets to choose one item, and we'll use it as an opportunity to get something significant for one of our teenage sons.
8) My husband has a Sears credit card, which he uses for business expenses. His reward this year was $80 in Sears gift cards, which we'll use to buy gifts.
9) I will gather any unused gift certificates and gift cards and use any remaining balances towards gift giving.
10) I may host a gift swap party at my house. Each invitee would bring three or four items and then have the opportunity to leave with new gift-ready items for people on their own gift lists. One person's dust catcher is another person's treasure!
Each and every one of us has different opportunities for free stuff in our lives. I may live within walking distance from an amazing used bookstore, but you might live next to a store that throws out perfectly good merchandise. It's available for all.
Do you feel a $0 Christmas is possible or even a respectable goal? The average American spent $801 on Christmas in 2013, which when paired with the statistic that those with a credit card balance owe an average of $10,902, means that spending nothing suddenly doesn't look so bad.
You may notice that I didn't include any homemade gifts. I may attempt some crafty projects, but those often require purchased goods. And even though I spent money on the supplies, I'll still be gifting jars of my homemade applesauce.
Would you ever attempt such a drastic limitation to your holiday spending? Please share your thoughts in the comments section below.
Katy Wolk-Stanley
"Use it up, wear it out, make it do or do without."
Click HERE to follow The Non-Consumer Advocate on Twitter.
Click HERE to follow The Non-Consumer Advocate on Instagram.
Click HERE to join The Non-Consumer Advocate Facebook group.
Click HERE to follow The Non-Consumer Advocate on Pinterest.