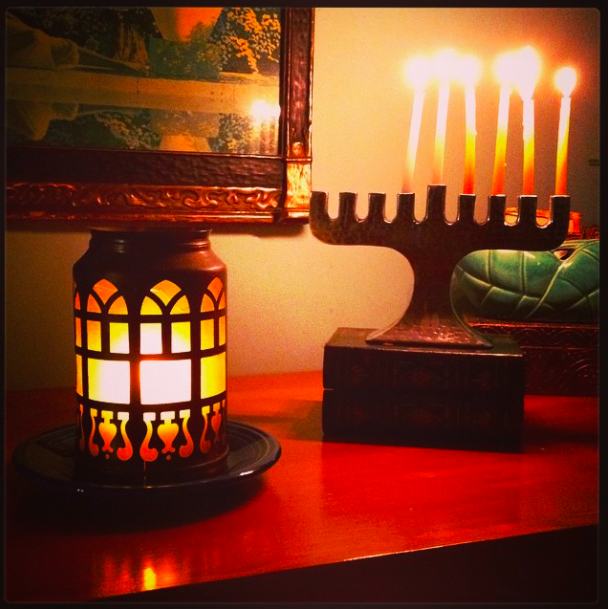 I'm doing another Five Frugal Things blog post today because frugality is an ever present part of my daily life. 
I picked up my free ten-pound spiral ham from Safeway. My employer sends out an annual voucher for a free turkey or ham each December, and I make sure to get the most from it. I chose a 10.59-lb ham rather than getting a 9.5-lb ham as I would rather pay the $1 for the extra half-pound than not get the full value for the coupon. I imagine we'll get at least a week of meals from the ham, starting tonight with a mixed bean chili sprinkled with diced ham! (And most frugally, all I bought at Safeway was the ham and three Luna bars for my husband's work lunches.)
I have the new Roz Chast book on hold and waiting to be picked up at the library. I'll walk there, and also hit the Redbox in the Walgreens across the street to pick up a movie for tonight. (I have a code for a free movie.) To get your own free code, text MOVIENIGHT to 727272.
My planned dinner for last night was the mixed bean chili with cornbread. Unfortunately, the crock pot beans were still undercooked at 6 P.M., so I switched things up and heated up two can of cream of crab soup that'd picked up at The Dollar Tree. I could have made some kind of quickie pasta dish, but the cornbread was already in the oven, and cornbread with pasta seemed too carb-tastic, even for me.
I still needed to buy pajamas for my sons, as it's an annual tradition for our family to have a new pair of jammies to open on Christmas Eve. I hit up one of my favorite Goodwills and immediately scored a pair for each of my teenagers. One $4.99 pair was still new with tag, and a $7.99 set was the half-off color! Doesn't precisely fit with my Zero Dollar Christmas, but since this was the only thing I spent money on, I felt good about the purchase.
Simple everyday stuff like wearing clothes more than once before washing, drinking tap water, decorating for the winter holidays with free greenery and stuff I already own, showering every other day, choosing holiday baking recipes that don't require expensive ingredients and finding satisfaction in life's simple pleasures like reheated leftovers and a crackling fire.
Now your turn. What frugal activities have you continued to do?
Katy Wolk-Stanley
"Use it up, wear it out, make it do or do without."