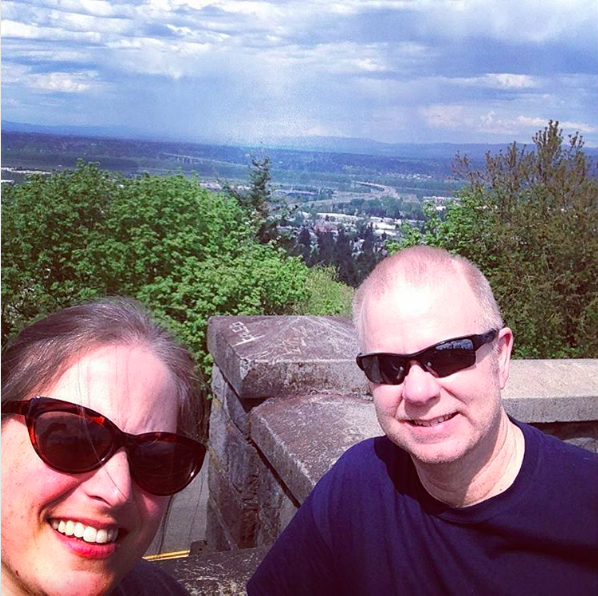 My husband and I wanted to go do fun stuff the other day, yet couldn't justify the cost. (April was an extremely expensive month due to tuition payment, taxes and some unexpected medical fees.) I had two large mustard colored glazed flowerpots that I wasn't keen on, so I brought them over to our local consignment shop and left with $6.90 in cash. I'd pulled them from a free pile a few months ago, so I had no problem parting with them. Add in that I still had leftover cash from last week's consumer opinion panel, and suddenly we had guilt-free funds for an afternoon of lunch and sightseeing.
I worked yesterday and brought my own lunch of spaghetti squash with homemade kale pesto. I'd thought that I didn't have enough leftovers to put a work lunch together, but then remembered the squash. Of course I enjoyed the free crappy coffee and the free delicious tea.
I drew out my own calendar pages for June and July instead of buying a regular calendar. We have more paper at home then we could ever possibly use, and I'd rather make use of something I already own than buy a retail product. Why do we have so much paper? I rescued a couple reams of paper from my son's dorm when we helped him move out last year. That's also how I "shopped" for our current bath mat.
I remembered my Chinook Book app while shopping at New Seasons the other day and tapped through to see if there were any coupons I could use. I discovered one for a dozen free eggs, which I gleefully added onto my phone. I paid $15 for the app a few months ago on a day when 100% of the proceeds were dedicated to the American Civil Liberties Union, (ACLU) which perfectly aligned my passions. Bargain shopping and free speech protection? Be still my heart!
I didn't buy a Lear Jet or a vulgar gold-plated apartment in the sky.
Now your turn. What frugal things have you been up to?
Katy Wolk-Stanley
"Use it up, wear it out, make it do or do without."