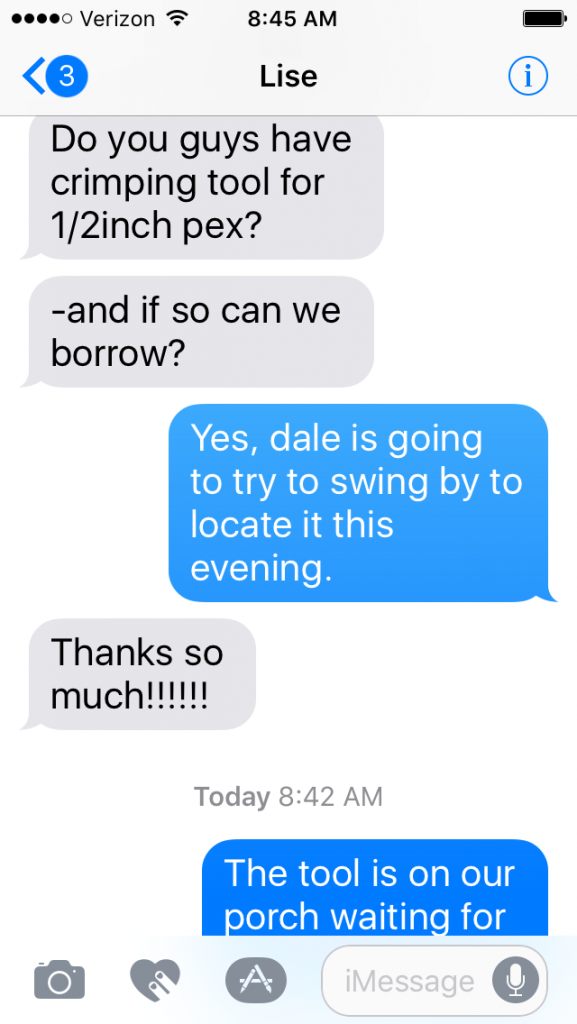 My friend Lise is rebuilding her Airbnb's bathroom and was asking opinions on paint colors. I convinced her to try looking at the Habitat ReStore before buying new. Although she didn't find anything she liked, it was still worth checking out as we both learned that the ReStore now sells their own line of recycled paint for just $16 per gallon.

My sister, Lise and I stopped at the taco truck on the way home where my sister and I split a $7 burrito. We set up in the shady backyard and dined alfresco. We enjoyed leftover La Croix seltzers and chips from my husband's work party and remarked on how the three of us could have easily split the single "super sized" burrito.

My sister and I stopped at the Kroger grocery store to buy treats and chose two pints of Halo Top brand ice cream. The machine spit out a $2-off coupon, so I called over an employee to assist us as we were using the self-checkout. He whipped out an additional coupon for a free pint and he scanned our $2-off coupon. So instead of $6 apiece for the ice cream, (which we would have never paid) we paid 75¢ apiece for our pints!

I noticed that my friend Lise was replumbing her bathroom using Pex tubing and mentioned that we owned the tool that goes with it. (This is as far as my knowledge on the subject goes.) She later texted me asking if she could borrow it. My husband, who works nights swung by the house to locate it, which saved my friend from having to rent or buy her own one. Much of frugality is providing frugal opportunities for others, which always gives me such a thrill. No roller coaster for me, my thrills come from frugal endeavors!

I didn't buy a Lear Jet or a vulgar gold-plated apartment in the sky.
Now your turn. What frugal things have you been up to?
Katy Wolk-Stanley
"Use it up, wear it out, make it do or do without."