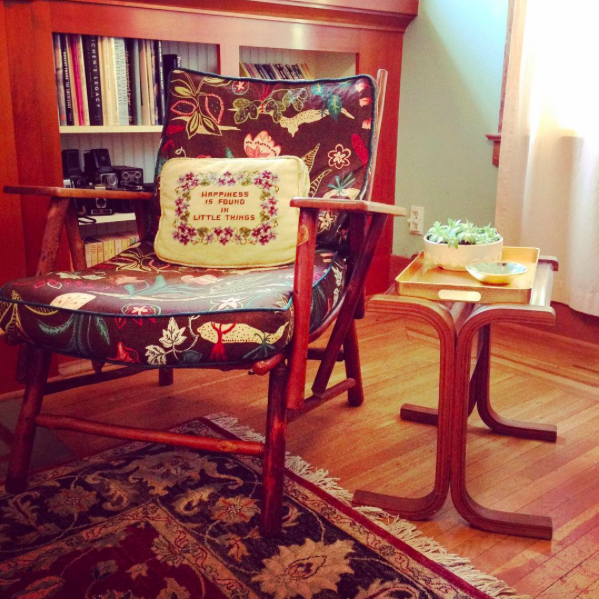 I hosted a going away supper for my sister, niece and extended family last night. I served a hodgepodge of leftovers, which kept the budget nice and low. It was a casual affair, but a mostly tidy home and attractively plated food (even leftovers) elevates any event. My sister and niece then spent the night to simplify ferrying them to the airport at 4:30 in the freaking A.M. Love them, will miss them, but that's too damned early! Yawn . . . .

My sister and I walked to the grocery store for a few items last night and came home with a pretty glazed flowerpot that someone had put out for free. It actually has the remnants of plant in it, so I'll water it to see what happens.

I was unsure of how make my garbage picked Westnova style (?) lucite table work, as the unusual top isn't flat. (This is what it looked like before.) Anyway, I added a gold tray that I already owned to the top, which transformed it into the perfect end table for a corner of my living room. Note the "Happiness is found in little things" needlepoint pillow that I usurped from my mother. Theft from parents is very frugal. Sorry, mom.

My sister brought over all her leftover and uneaten food from the guest cottage where she spent her Portland vacation. From ice cream to frozen Trader Joe's meals, tortillas to veggies, my fridge is now fit to burst! Hello, free food. Goodbye, food waste.

I didn't buy a Lear Jet or a vulgar gold-plated apartment in the sky.
Now your turn. What frugal things have you been up to?
Katy Wolk-Stanley
"Use it up, wear it out, make it do or do without."