Edit: It seems that some readers took offensive in my having used the descriptor of "plus size" to describe this hospital gown. To me, that is not an insult as I myself am such. I did not hold the gown out to mock the larger community at large, but only to show the gown. I have written over seventy-bajillion blog posts over the past 9-1/2 years and would hope that my readers would show some faith in me. I will not respond to individual comments on this subject.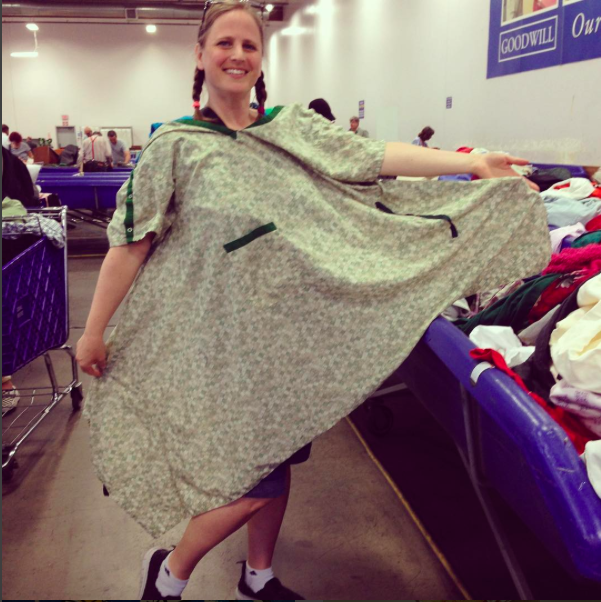 I fought the urge to get Mexican cart takeout and assembled my own burrito bar for dinner. I set the crock pot on the front porch to avoid heating up the kitchen for the pinto beans, and then pulled together various toppings from the contents of the fridge and pantry. I took one for the team and ate up a tomato that was on its last legs as well as a half avocado that on the sad side of the bell curve. You may think my addiction to Mexican food carts is a joke, but it isn't as there are three (maybe four) within walking distance from my house! The struggle is real!

I hung out with my mother after dropping my older son at work yesterday. For the two of us, that meant scoping out the pay-by-the-pound Goodwill Outlet. (My son's work, my mom's house and "the bins" are all in the same neighborhood!) I bought a number of items to sell, as well as a few things to keep. (One huge canning jar, socks for my son, an adorable cowboy vest for our dress-up bin, a vintage Fiestaware bowl, a hair band, a couple bandanas and a cute vintage canning lid.) I did not buy the above hospital gown, although I couldn't resist snapping a photo, as it's the same as the ones we use at my hospital!

I sold two life vests that I picked up from a garage sale freebie pile, I sold a handmade wooden duck that had been lying dormant in my eBay sales, (and I assumed had been a mistake to have bought in the first place) and then finally received payment on a baseball mitt that sold last week. I arranged for a free USPS pickup from the house to avoid a post office trip.

It's been kind of hot lately, which becomes very noticeable on the second floor of my uninsulated 103-year-old house. However, I've been running window fans instead of using the air conditioner as it's not that bad. Cool clean sheets with an empty duvet cover go a long way.

I didn't buy a Lear Jet or a vulgar gold-plated apartment in the sky.
Now your turn. What frugal things have you been up to?
Katy Wolk-Stanley
"Use it up, wear it out, make it do or do without."