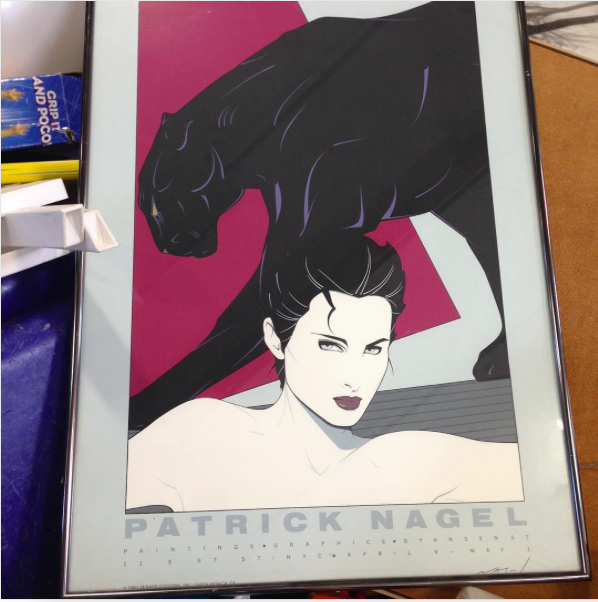 I bought a framed poster for $2.50 at the Goodwill Outlet on Monday, listed it for $99.99 on eBay that night and then sold it the next morning while I was at work! I took a shot in the dark on pricing as I couldn't find the exact same image, but I'm comfortable that I didn't under price it. (Frankly, I thought I had overpriced it!) If all my thrift store flips could go this well, I could quit my stressful job as an RN!

I drove my older son through Burgerville last night after picking him up from work. His food smelled absolutely divine, but instead of indulging myself I foraged/spelunked through the fridge and came up with a big taco salad which was A) rather yummy, B) much healthier and C) Waaaay more frugal. I'm not a believer in hell, but I believe it would likely resemble being hungry in a compact car while a passenger happily chomps on aromatic French fries. Man, did those smell good!

I was able to create a "Frankenbox" for the framed poster utilizing an enormous used box, which I then bent and cut to size. I wrapped it in an impressive amount of bubble wrap, (which I source for free from a local business) and then taped the thing within an inch of its life. No need to use virgin shipping materials when used supplies are easily available. I made the decision over ten years ago to only buy used and if anything I've grown more adamant about this choice. Our planet and its inhabitants suffer under the new, new, new mentality and most people practice without a second thought.

I attended a four hour mandatory meeting at the hospital yesterday afternoon and I chose to walk up to my unit and grab a cup of the free crappy coffee rather than order one from one of the on site cafes.

I didn't buy a Lear Jet or a vulgar gold-plated apartment in the sky.
Now your turn. What frugal things have you been up to?
Katy Wolk-Stanley
"Use it up, wear it out, make it do or do without."