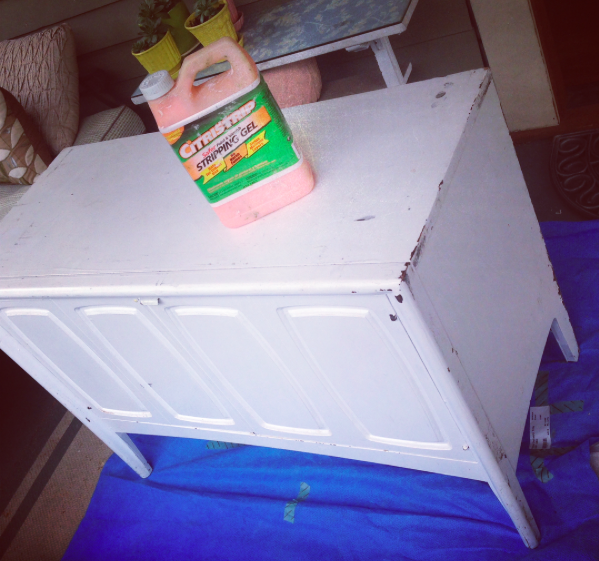 I sold a set of vintage Pyrex mixing bowls through Craigslist that had been taking up space in my cupboard. I love their aesthetic, but they can't go into the dishwasher and need to be handled with delicate care. I'm at a point where I'd rather have more practical tools in my kitchen, so I'm also readying to list another set of Pyrex as well. My mother sings the praises of nextdoor.com, so I listed a couple items on there to test it out. I found a potential buyer for an outdoor table that I got for free, so I guess I'll keep Next Door in my rotation.

I started the process of stripping the paint from a midcentury Broyhill sideboard that I picked up at the beginning of the summer. My mother had a 3/4-full jug of chemical stripper, so my only expense so far is the $15 that I spent to buy it from the Goodwill Outlet. I might actually hold onto this piece, as it's uber-groovy and the storage would be handy. However, I know myself well enough to guess that I'd rather have the money than a new piece of furniture. I guess it'll depend on how much I can sell it for.

I cooked up a batch of black beans in my slow cooker yesterday thinking I would set up a burrito bar for dinner. Half of my family was out and about come dinnertime, so I switched things up and mixed up a batch of Black Bean Burgers, which was a total win as I was able to incorporate a bag of random frozen bread heels, the last of a bag of roasted corn kernels and some pureed Pace salsa. (Someone brought a Costco size jar of this salsa to a party earlier this summer, but since none of us enjoy this brand, it's been sitting in the pantry.) By pureeing it, I think I can start to anonymously slip it into recipes. Shh . . .

I picked up a faux Hudson Bay blanket at the Goodwill Outlet earlier in this week. It had iron-on lettering plus the Washington State Lottery logo, but since it cost maybe $1, I figured it was worth the gamble. I finally figured out that Goo Gone, elbow grease and a sharp knife was the key for letter removing, although it took me at least a couple of hours to complete the task. (Thank you, Netflix reruns of The Office!) It's currently on the clothesline airing out, as the Goo Gone odor is surprisingly strong despite two washings. If anyone has any tips on how to remove that smell, I'd be super appreciative!

I didn't buy a Lear Jet or a vulgar gold-plated apartment in the sky.
Now your turn. What frugal things have you been up to?
Katy Wolk-Stanley
"Use it up, wear it out, make it do or do without."