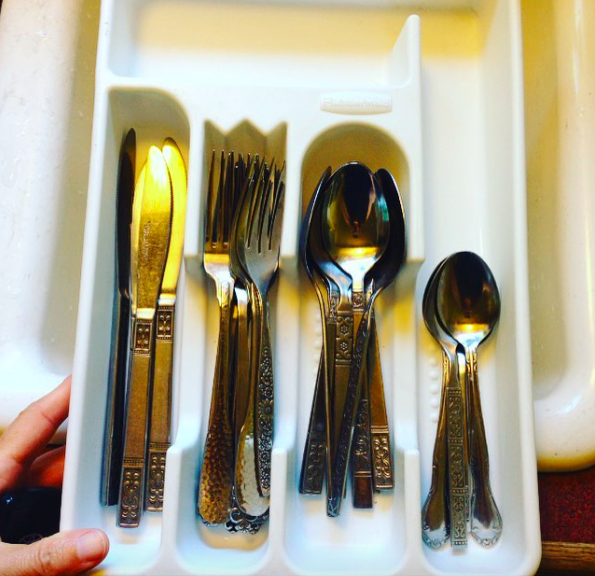 I was supposed to meet up with a woman yesterday to sell her a patio table that I got for free. Instead I accidentally took an extremely deep nap, and now she doesn't want to buy the table. This was my first time trying to sell anything through nextdoor.com, so at least I know that she didn't drive from far away. Perfect, I am not.

I was bizarrely tired yesterday, (see above) and had planned nothing whatsoever for dinner. I was deeply tempted to get takeout, but instead I threw together some bean and cheese quesadillas for the kids and then cooked up a couple black bean burger patties for myself. It wasn't exactly a meal to blog about, but being able to accept this simple fare saved us at least twenty bucks.

My out of town neighbors are going to let me put some extra garbage into their bin this week, (I'm cleaning out the basement) I donated a grocery bag of miscellaneous items to Goodwill, I'm photographing Goodwill finds for eBay listings, I sold another eBay item and I finally have the DVD of Hidden Figures ready to pick up at the library.

A friend of mine from work had been wanting to tag along for a Goodwill Outlet excursion, so the two of us arranged a little play date. (Actually there were two-and-a-half of us, as she has a newborn.) The trip did not provide any brag-worthy finds, but for $5.50 I did buy:
A swimsuit for myself, as my old one becomes transparent when wet. (Not my preferred look!)

A 1930's Mickey Mouse silver spoon to sell.

Another handful of miscellaneous stainless steel silverware for my sons' apartments.

A Rubbermaid silverware organizer.

A Texas Instruments scientific calculator to sell.

Two children's books for my friend.

A ceramic coffee creamer for this friend.

An unopened package of wall hooks. Yup. For my friend.
     5. I didn't buy a Lear Jet or a vulgar gold plated apartment in the sky.
Now your turn. What frugal things have you been up to?
Katy Wolk-Stanley
"Use it up, wear it out, make it do or do without."