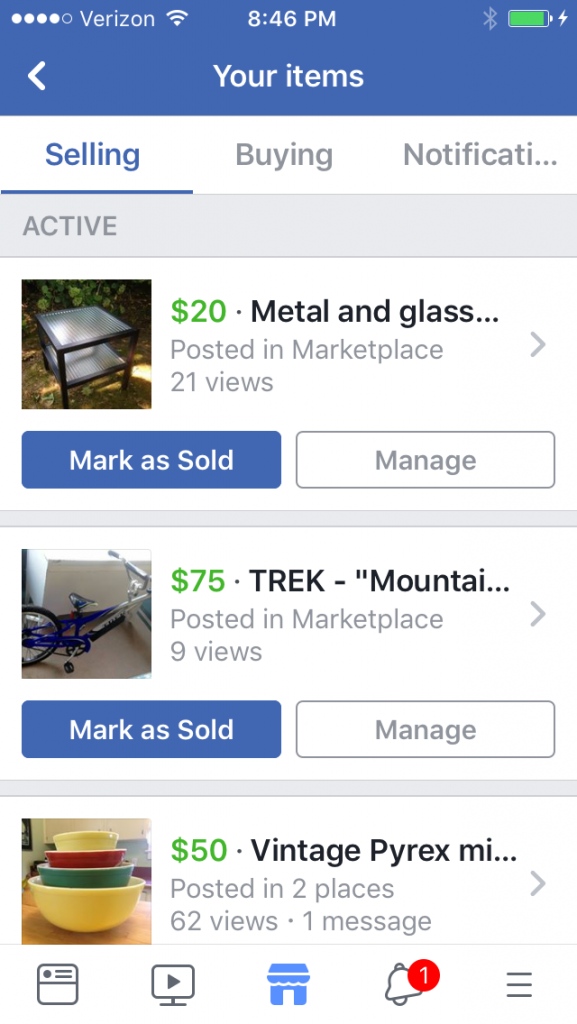 I sold a Vera Bradley "Weekender" bag through Facebook Marketplace, which was my fist time trying them out. I was kind of nervous, as there's no anonymity, but the sale went off without a hitch. I went ahead and listed a few items that had been languishing on Craigslist and immediately got a gimme-I-want-it inquiry on one item (The Pyrex bowls) that had yet to generate any interest on Craigslist. I'm definitely going to add this platform to my selling rotation! Unlike eBay which takes a hefty fee, Facebook Marketplace is free. So yeah . . .  that's a plus in my book!

I took apart and scrubbed out a small but kick-ass vacuum cleaner that my son and I picked up for free at a garage sale earlier this summer. It'll come in handy for my younger son's apartment, which has carpet. My older son may also have carpet in his apartment, but I know him well enough to be sure that any vacuum cleaner I give him will only gather dust. #parentingtruth

I was chatting with an older co-worker about the process of gathering apartment supplies, and she offered me the chance to look through some excess household goods from her garage. I'd already compiled an extensive list of everything my sons will need, so I texted her a photo of it. I'll make sure to figure out something nice for her in return.

I found an extra container of paint stripper in my basement, which should hopefully be enough to finish the midcentury sideboard that I'm refinishing, I worked yesterday and brought my own lunch, even though it was a bit scrappy, I shared a $7 food cart burrito with my husband for tonight's dinner, I watched a few library DVD episodes of Buffy The Vampire Slayer, I mended a shirt and I started working on my September budget after a few months of slacking.

I didn't buy a Lear Jet or a vulgar gold-plated apartment in the sky.
Now your turn. What frugal things have you been up to?
Katy Wolk-Stanley
"Use it up, wear it out, make it do or do without."