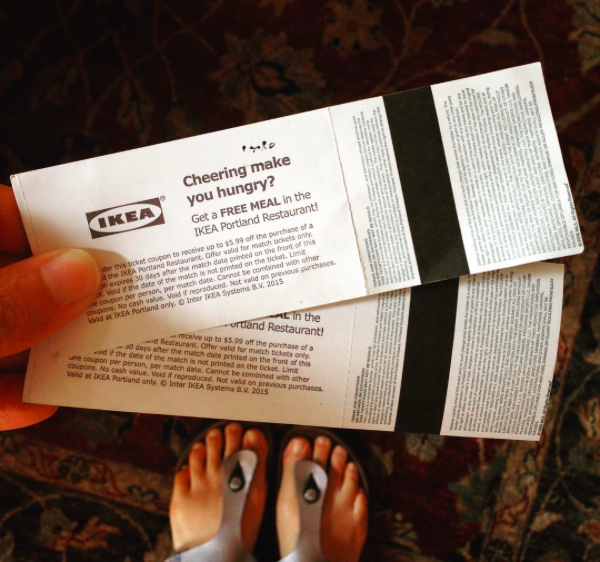 I worked yesterday, but brought my own scrappy lunch (leftover gyoza, plus some hummus and carrots) and enjoyed the free crappy coffee and the free delicious tea. While I worked, two buyers picked up Facebook Marketplace items (a small patio table and some Pyrex bowls) from my front porch. I do love earning extra money while I'm simultaneously off earning my income!
One of my husband's co-workers sent him home with a sizable bag of garden produce. We've since been indulging in heavenly cucumbers, zucchini and heirloom tomatoes. Perfect as I'd just picked up a tub of Trader Joe's hummus.
My husband was given two free Thorns (women's major league soccer) tickets yesterday, which he enjoyed despite a high of 96° F. He then tossed the paper tickets into our recycling bin. Luckily they landed upside down, which caught my eye as they're each redeemable for a free meal in the Ikea cafeteria! They're only good for 30 days past the game day, but that should be no problem as Ikea is close to both Costco and a Goodwill Outlet. I'm not a big soccer fan, but I am most definitely a fan of free food!
I slept on my son's trundle bed and confirmed that it's just as comfortable as a regular bed. (It's a twin bed that's normally sits underneath his normal bed. It then pops up to a regular height.) This means that he can bring this frame and mattress to college with him, and we can avoid having to buy a new bed for his fancy schmancy off campus apartment. This is a definite benefit to attending college just a few hours away from home. My college was in Ohio, so there was zero opportunity to bring anything bulky from Oregon.
I didn't buy a Lear Jet or a vulgar gold-plated apartment in the sky.
Now your turn. What frugal things have you been up to?
Katy Wolk-Stanley
"Use it up, wear it out, make it do or do without."