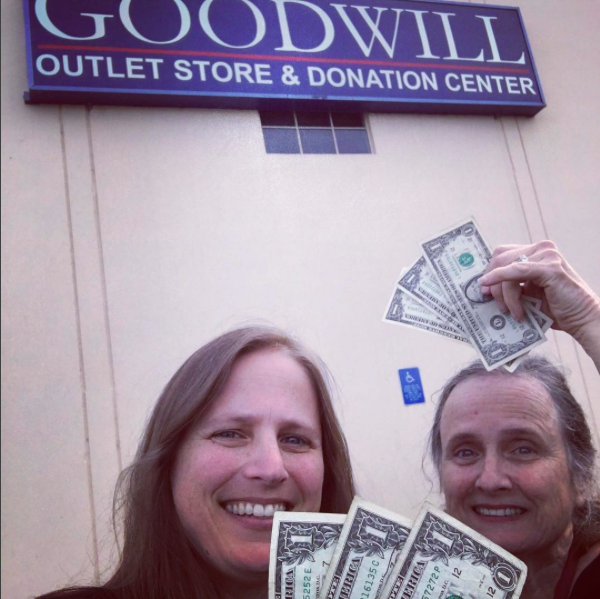 My mother and I took our $3 stipends to the Goodwill Outlet to try our luck at recreating Bargain Hunt in our own cheap American fashion. I chose a number of lightweight items with an eye for resale, while my mother bought a single heavier item that actually cost $3.86. (She gave me the gift of life, so I let this slide.) The idea is that we'll now list our items for sale, and the "golden gavel" will go to whichever of us realizes the highest profit. I am much more into the premise than she is, but I think I can lure her into my goofy game. (Silly woman kept wasting her time reassembling puzzles and chatting up the other shoppers. Mom!)

I sold a Tardis jewelry box that I'd plucked from an outlet bin, (not part of the challenge) I sold my North Face down vest, I almost sold a Trek trail-a-bike that I've been listing and relisting (and relisting) for the better part of two months, (I regret ever having bought it, but it's a helpful reminder to not not invest too much money on resale items.) I miraculously sold one of my eBay items, which was a Marimekko latté cup that I'd picked up for $1.99 or so. Of course I packaged the cup using secondhand supplies.

My husband works night shifts, which means that I'm on my own most evenings. Because of this, I'm able to prepare dinners that cater to my own picky frugal palate. Last night's dinner was the last of some refried beans with a sautéed onion, lettuce and salsa. Nothing I would ever serve to anyone but myself, but it was tasty, filling, healthy and frugal. Let's just agree that this meal is unlikely to ever be featured on Pinterest. Beans smeared on lettuce? Mmmm . . . .

I went to lunch yesterday at a locally owned restaurant with my father, which was quite frugal for him as I'd filled up a punch card from previous visits to this same restaurant. Greedy (Id) me was tempted to save the punch card to treat my husband to lunch at some point, but rational me (Ego) took over and handed over the punch card since my generous father is the one who always pays for lunch. Damn you, Freud!

I didn't buy a Lear Jet or a vulgar gold-plated apartment in the sky.
Now your turn. What frugal things have you been up to?
Katy Wolk-Stanley
"Use it up, wear it out, make it do or do without."