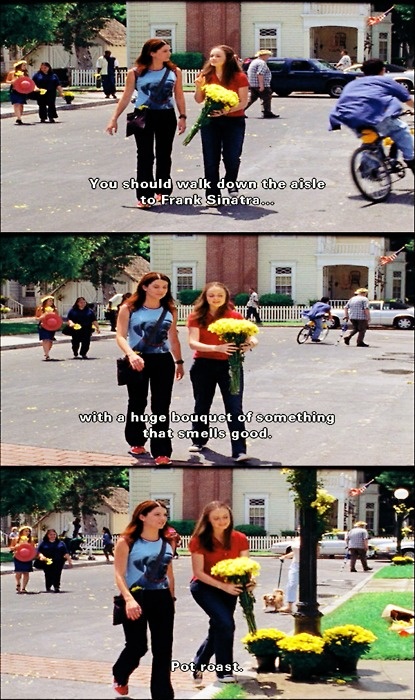 I bought an on sale chuck roast yesterday and filled my house with the heavenly scent of pot roast. I gobbled up all the ambrosia-like carrots and onions, so I'll go to the store today for more carrots to bake in the leftover broth. Day two of the house smelling like pot roast? Even Lorelei Gilmore would approve.

I sold an Izod shirt on eBay that I'd had listed for ages. I then bought a pair of eBay jeans that I've determined to the perfect size and style for me. I was down to a single pair of pants, ("trousers" for you British readers) and was unlikely to come across these specific jeans while thrifting. I paid $13.50 with free shipping, which works for me.

For years I've set up an old TV/VCR combo in our front window on Halloween to play "The Nightmare Before Christmas." We no longer own this TV, so instead I set up a big computer monitor and played the same movie through Netflix. Our nine front steps are wide, which gives them the illusion of being steeper than they actually are, so I feel the need to advertise our house as "worth the effort" to hesitant trick-or-treaters. It always works and many of the kids commented on how much they loved it. This Halloween decor doesn't need to be bought, stored or maintained. Using what I already have as a Halloween feature? Perfect!

I packed up the Izod shirt in a used manilla envelope, I arranged a free USPS pickup to avoid driving to the post office, I handed out Red Rose figurines to trick-or-treaters who wanted "a ceramic figurine" and I only bought practical food while grocery shopping. So yeah . . . no ice cream.

I didn't buy a Lear Jet or a vulgar gold-plated apartment in the sky.
Now your turn. What frugal things have you been up to?
Katy Wolk-Stanley
"Use it up, wear it out, make it do or do without."