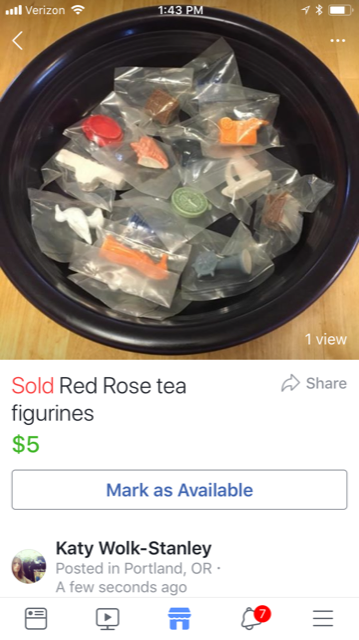 I gave away all our leftover Halloween candy to someone in my Buy Nothing Group who is a middle school counselor. She'd posted a request, asking "Have leftover chocolate? I'd be happy to take it off your hands for my students. I'm a middle school counselor and chocolate has a magical way of making teary, awkward, emotional middle schoolers feel much better after a crappy day." Poor kids, middle school is THE WORST!

I sold all my leftover Red Rose Tea figurines to someone who sells at area flea markets. (Not a ton of money, but every penny counts!) Once I've decided to get rid of something it's almost painful to continue looking at it. I also picked a different buy nothing recipient to come and get a tea kettle that I've been trying to give away. (The person who had so desperately wanted it kept flaking out.) I finished up another Clark Howard article that I'd been tinkering with for a few days. In the end it took a long time to write, but I'm really happy with the end result. I'll start on another article today that's hopefully a bit more straightforward.

I needed to get out of the house yesterday, so I texted my friend Lise to see if she was up for a walk to the grocery store. I needed carrots, onions and beef broth to tart up my leftover pot roast, and I even stuck to my list. We had a nice long chat while crossing tasks from our respective to-do lists. She'd recently reorganized her magazines, and I showed her a nearby Little Free Library that would be a perfect way to declutter a few of her old New Yorkers.

I took some Dollar Tree navy beans that I'd cooked in the crock pot a few days ago and am turning them into a savory soup. I work tomorrow and would like to have some nice leftovers to bring for lunch. The hospital cafeteria has an amazingly inexpensive salad bar, but homemade is still cheaper.

I didn't buy a Lear Jet or a vulgar gold-plated apartment in the sky.
Now your turn. What frugal things have you been up to?
Katy Wolk-Stanley
"Use it up, wear it out, make it do or do without."