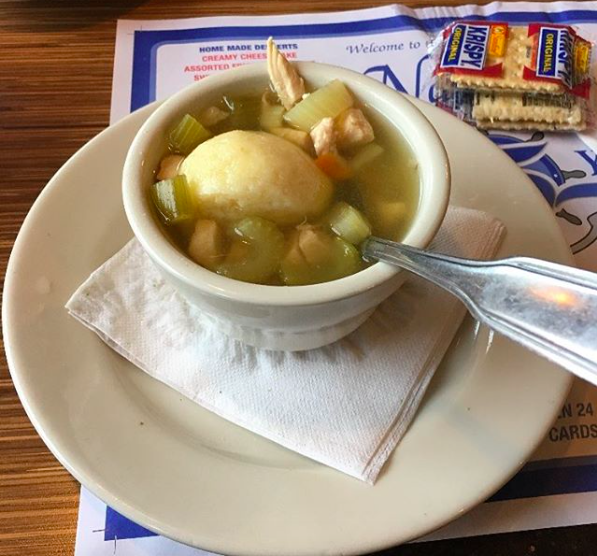 Yesterday was another envious New York day of writing for me and studying for my sister. We were able to sneak in lunch at The Nautilus Diner up in Westchester County, where we were approximately 70 bajillion years younger than the other clientele. (My sister's friend shared that it was nicknamed "The Naughty Lust Diner" back in the day.) We split a Reuben and each enjoyed a cup of soup. Of course I had to order the matzoh ball soup. Nothing naughty. Very little lust.

We then settled ourselves at the nearby Mamaroneck library where we spread out our study materials and try not to be too distracted by the surrounding wall art. This historic library is clean, quiet and obviously well funded. Even the wooden chairs are hand crafted and comfortable. We then discovered a basement store filled with used library books that were priced to sell. My sister made plans to bring her daughter back on a subsequent visit and I helped myself to a free 1973 paperback of Judy Blume's Deenie. Such a great classic that's the perfect length to read on the airplane. (By the way, I already donated my library purchased Tony Hillerman book to my sister's Bronx library.)

I then caught the 4 train into the city to meet up with my friend Greta. I was about an hour early, so I walked over to the Art Students League to see if there were any exhibitions to peruse. Sadly the student gallery was locked, and there seemed to be no one around to answer questions or point me towards another area. I was tempted to park my butt in one of the many coffee shops, but I was still caffeinated from The Naughty Lust and didn't feel like spending any money. Instead I just walked around the neighborhood and took full advantage of the people watching opportunities that Manhattan is sure to provide.

Greta and I took the F train into Queens to pick her son up from school and bring him to basketball practice. She seemed surprised that I wanted to join her for such a mundane activity, but when the company is good anything can be a treat. We then walked home and prepared a meal which was perfectly lovely and featured having time for actual conversation with full grown up sentences. I got to know her boyfriend who'd I'd previously only been introduced to and was then tucked into a Lyft for the ride home. I briefly considered taking the subway back to The Bronx, but it was already 11 P.M., and I didn't relish that idea for a number of reasons. I spent $48.20 for the trip, but the door to door experience was worth every penny.

I didn't buy a Lear Jet, an I ♥ NY T-shirt, a Statue of Liberty snow globe, a taxi cab paperweight, a Phantom of The Opera mask or a vulgar gold-plated apartment in the sky.
Now your turn. What frugal things have you been up to?
Katy Wolk-Stanley
"Use it up, wear it out, make it do or do without."