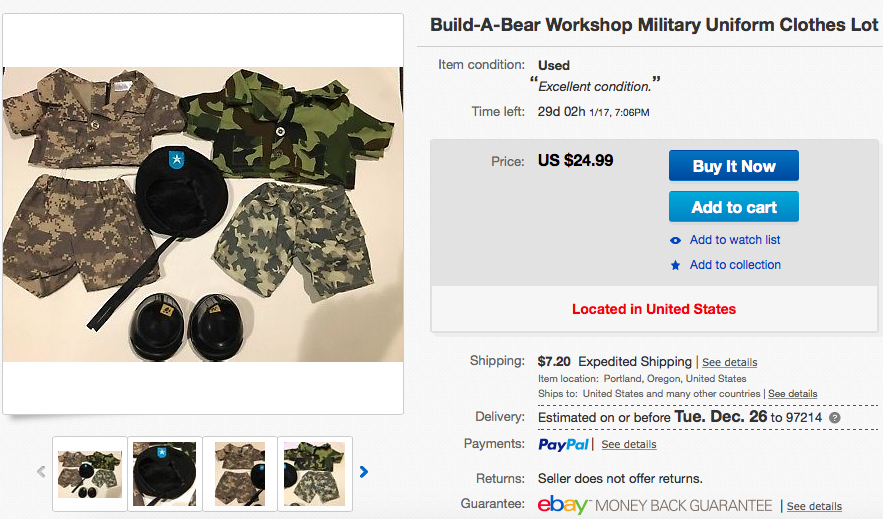 We've been the recipient of multiple home baked goody bags from my husband's employees. I'm realizing that I need to reciprocate, so I'll mix up a double batch of my ginger snaps, which are always a hit yet do not require fussy or expensive ingredients.

I spent a couple of hours photographing and then listing my recently thrifted Build-A-Bear clothing lots. In all I spent $15 for two tremendously full bags of doll clothing, from which I assembled nine mixed lots and will potentially bring in $150. Of course eBay, PayPal and the IRS take their cut, but even so I'd prefer to engage in a money making activity than sit idle in front of the TV. (I've sold dolls and doll accessories on eBay in the past and have a 100% sell-through rate.) The bags contained additional random unbranded doll clothing items, which I've already gifted through my local buy nothing group.

I've been making dinner early in the day lately which saves me from cooking in the evening when I'm uninspired and likely to succumb to the siren song of takeout or restaurant meals. Yesterday was meatloaf, the day before was butternut squash soup and tonight will be chicken adobo. All meals that can be prepared hours in advance without dried out or soggy results. I know I could plan a big prep day once a week like others do, but that smacks of a level of organization and effort that eludes me.

I returned an overdue book to the library, I accepted an offer to buy just a small piece from an eBay listing, I gifted a wall calendar through my buy nothing group that comes unasked for every year and I'm thinking I can make 100% of our holiday gifts be either consumable or second hand this year.

I didn't buy a Lear Jet or a vulgar gold-plated apartment in the sky.
Now your turn. What frugal things have you been up to?
Katy Wolk-Stanley
"Use it up, wear it out, make it do or do without."