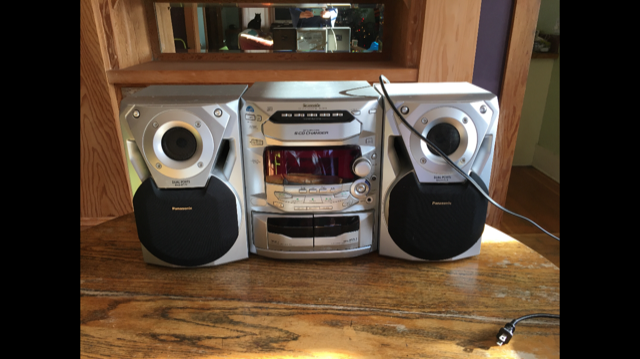 We were able to avoid the normally inevitable H.F.E.S., ("Holiday Financial Expansion Syndrome") yet still feel 100% content with our gifting. We gave our older son a Wii video game system as the one he took to school didn't work properly. I somehow sourced one for free through NextDoor.com, which was amazing since I'd written a post offering to pay for one. My younger son then received a compact stereo system as he's been wanting to listen to Mettalica/Anthrax/Megadeath on CDs instead of just streaming them. (Boy oh boy, do he and I have differing taste in music!) Again, someone generously offered to just give us one they weren't using, which was tremendously helpful since our January 1st double tuition deadline looms greatly. (Gulp!) We also gave them gift cards to Buffalo Exchange which I earned by bringing in random stuff over the past year. They each then received $25 to spend at Amazon.com using a gift card my husband received from his employer. My husband and I don't give gifts to each other, and through the years we've winnowed down the people with whom we exchange gifts. For other family members, we regifted, bought gourmet consumables, gave a few pay-by-the-pound Goodwill items and bought a movie theater gift card. But in the end we kept our spending low and stayed true to our tight budget.

I was tempted to treat ourselves to a restaurant dinner on Christmas Eve as we don't follow any family traditions or commitments. Instead I walked to the grocery store and bought the fixings for an enormous pot roast. Not only did our house smell heavenly for hours on end, but we've been enjoying leftovers ever since.

I mended a queen size fitted sheet that I bought at the Seattle Goodwill at least seven years ago. A few of the seams had split, and although my hand stitched repair is super obvious, it sits under the blanket and it's not like I'm giving tours of our bedroom. New or even thrifted sheets are expensive, y'all!

I put together a couple of eBay and Craigslist listings, and then arranged to do eight hours of paid education through my employer. I earned this perk by working over 800 hours in 2016, but hadn't realized I had this benefit until recently. I can do the study program while in my jammies at home and the extra pay will go onto my next paycheck. I worked enough hours in 2017 to earn a $1.25 per-hour-worked bonus, which will help to jump start the April 1st double tuition payment. Even though we're paying less than when the kids lived in dorms, it someone seems harder to save while making monthly rent payments.

I didn't buy a Lear Jet or a vulgar gold-plated apartment in the sky.
Now your turn. What frugal things have you been up to?
Katy Wolk-Stanley
"Use it up, wear it out, make it do or do without."