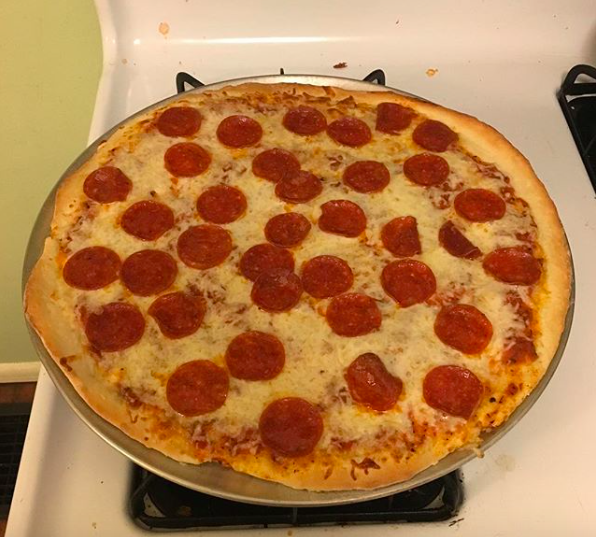 I'm spending the day at home working my way through online educational modules for which I'll receive eight hours of RN pay. I earned this benefit through working greater than 800 hours as a labor and delivery nurse in 2016. I also earned this benefit for 2018, as I worked waaaay more than 800 hours in 2017. However, since 2018 starts in a few days, I can actually piggyback two years of education sessions onto the same paycheck. This is great as I'm not working much while my kids are home from college, yet those college tuition payments are like a financial elephant on my chest.

Today's sweater, jeans and socks are all semi-recent finds from the pay-by-the-pound Goodwill Outlet store, while my tank top is a long ago 25¢ garage sale item. I did receive new Keen slippers as a gift maybe five years ago, although they seem to be holding strong and should last another five years. I would hazard a guess to say that I spent two dollars on today's outfit, but it's only that high due to the Land's End sweater being cotton and having some weight to it.

I'm working on eating from the fridge and pantry as much as possible right now. I cobbled together a pizza for my sons last night, which I topped with frozen pepperoni. My husband noticed that his work refrigerator had a Costco sized bag of sliced pepperoni which was going to be tossed, so he brought it home. I froze what I can only guess was four pounds of pepperoni in small resealable bags, so we're now set for the next couple of years. I also threw some dried black beans into our crockpot, which simmered throughout the afternoon and into the evening. I enjoyed a bowl for dinner, which I garnished with various random items, including the last of some organic salsa that someone had brought to a party last summer. (It didn't get opened until last month.) There's enough black beans left over that I can set out a "burrito bar" for the evening meal. I do need to pick up a few grocery items, (specifically fruit) but I'll go to Trader Joe's, as their bananas are 19¢ apiece and a bargain, especially if you take a moment to grab the biggest ones. I'm guessing they're a loss leader, but I have no shame about walking past their aisles of impulse items to just buy bananas. After all, I am the "loss leader of the free world."

I was able to buy one of my son's Christmas presents (Metallica Guitar Hero for our PS3) using store credit I earned from bringing in games from a long ago free box, I lined our kitchen garbage using plastic bags from the Chinese restaurant where we ate Christmas dinner, (a NYC Jewish tradition and my Bronx-raised step father's treat) I'm using bandanas as my nose tends to get runny in cold weather, and I made one of my son's college tuition payments early so I can avoid late fees if there are any issues with routing numbers or other such nonsense. (My payday's not until Friday, so I'll make the other son's payment then.)

I didn't buy a Lear Jet or a vulgar gold-plated apartment in the sky.
Now your turn. What frugal things have you been up to?
Katy Wolk-Stanley
"Use it up, wear it out, make it do or do without."