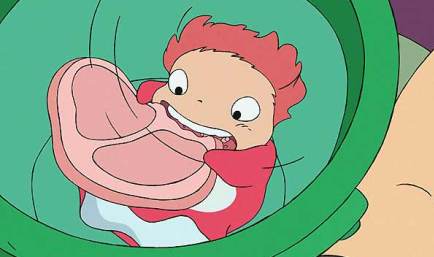 I had a voucher for a "free turkey or ham," which is the annual Christmas bonus from my hospital. I do not resemble the ham obsessed Ponyo, but it's easier than having to bake a turkey. (Plus I'm still sick of turkey from Thanksgiving.) It was about to expire, so I stopped by Safeway to scope out the possibilities. However, the coupon was specific for the ham to be "6-8 pounds," yet the smallest one in stock was 12 pounds. I took it to the counter and asked if it could be cut, and was told no. The per-pound price was $3.95, and I didn't feel like spending $16 on something I normally wouldn't even buy. I put the ham back and started towards my car, but turned back around to ask if I could get a rain check for when smaller hams get restocked. The manager (who knows me) told me that they would honor the coupon for the smallest ham in the store. This story ends with me in possession of a 12-pound ham and working very hard to incorporate it into every meal. So yes, our last three dinners have been split pea soup with ham, mixed bean soup with ham and black bean chili with . . . ham! My plan is to spend a few more days in ham hell incorporating into meals and then dice it up for the freezer. Ham ideas are welcome.

I was itching to get out of the house, yet didn't want to derail the budget lockdown that we're currently in. The weather was cold and rainy, so outdoorsy activities were out of the question. However, my younger son is always up for shenanigans, so the two of us drove over to Ikea to enjoy steaming mugs of their free coffee. We each brought a blank book and spent an hour or so doodling and jotting down ideas and weirdness. Finding fun and frugal activities was pretty easy when my kids were young, as there's always something going on at the library or a new playground to explore. It's a little trickier when they're teens, so I felt pretty good about the frugal hack.

I paid my younger son's tuition and fees for the winter term as the deadline was January 1st. I then logged into my older son's account and was pleased/elated/ecstatic to discover that his tuition deadline is somehow not until January 12th. This is fantastic as we'll have a few more paychecks under our belts, including the one that includes my work bonus. Cash flowing two kids in college is sometimes a laughable goal.

My birthday is later this week, so I'm starting to plan my Birthday Day of Adventures™. This family tradition to spend on experiences instead of stuff is a great hit at our house, but I've learned over the years that's it's best when I make the plans. Even for myself. So far I've sourced 2-for-1 movie tickets through my Buy Nothing Group and accepted a friend's offer to use her museum guest passes, as there's a Laika exhibit that the four of us should enjoy. I'm still trying to figure out the meals and treats, but it's a good start for a day that will promote family bonding and memories. I want for nothing, and value the rare instances when the four of us get to spend an entire day together more than anything sold on Amazon. Experiences > stuff, people. Experiences > stuff.

I didn't buy a Lear Jet or a vulgar gold-plated apartment in the sky.
Now your turn. What frugal things have you been up to?
Katy Wolk-Stanley
"Use it up, wear it out, make it do or do without."