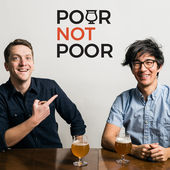 I offered to stay an extra four hours at the hospital for a 16-1/2 hour shift. (I had a lovely patient assignment, which I was more than happy to extend. Especially at time-and-a-half plus night shift differential!) I put in a request for a meal voucher, which means that I'll now be able to spend $5 in the cafeteria when I work next. I'll still bring food from home, but will be able to enjoy a treat as well.

I went to my husband's fancy workplace banquet last night, enjoying a free delicious meal, but did not indulge in anything from the no-host bar. I made do from my minimal wardrobe and avoided any temptation to purchase fancy clothing or footwear. I ended up chatting with another wife all evening and look forward to having her as a buddy for future work related events.

I started listening to a friend's new personal finance podcast. It's called Pour Not Poor, and each episode intertwines a financial topic with a specific craft beer. I know one of the podcasters (Joel Larsgaard) through my work with Clark Howard, as he was my first editor there. Great guy who I hope to meet in person some day. I'm not a craft beer fan, (I rarely drink alcohol) but enjoy personal finance enough to let that one go.

I sold a thrifted suitcase, put together a couple new eBay and Craigslist listings, walked to the store for grocery staples, am arranging a thrifting date with my friend Sarah from Portland Sampler, am eating down a fresh batch of red lentil soup with ham, and I Facetimed with my son for a couple hours instead of driving the four hours to hang out with him.

I didn't buy a Lear Jet or a vulgar gold-plated apartment in the sky.
Now your turn. What frugal things have you been up to?
Katy Wolk-Stanley    
"Use it up, wear it out, make it do or do without."