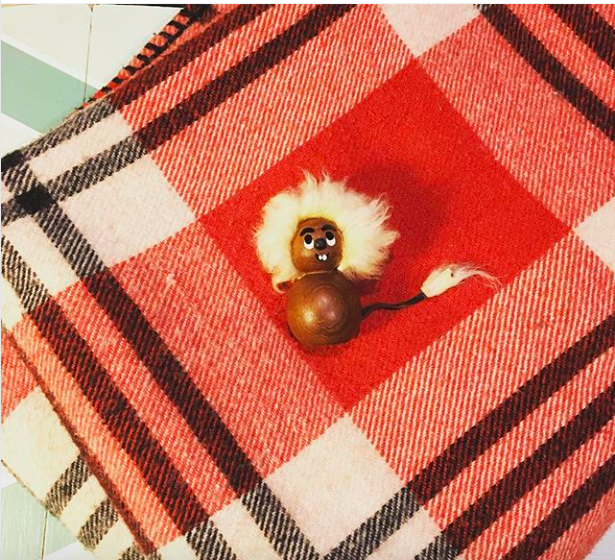 I spent yesterday thrifting and then gorging on delicious leftovers with my friend Sarah. (Really, is there any better combination?!) The meal was at her home, and consisted of reheated dahl soup from the new Smitten Kitchen cookbook, as well as warm little rounds of naan. I picked up a few bargains at the Goodwill Outlet, (we hit both locations) and then came home embarrassingly exhausted. What did I buy? A like-new wool throw blanket, (I'd sent my favorite lap blanket to school with my son) a creepy little Danish wooden figurine, a vintage cookbook, a sterling silver spoon, and handful of miscellaneous Brio trains, a vintage wooden document tray, (to help contain the chaos of mail and paperwork) a Silpat baking mat, and a cool wooden toy spaceship to sell.

But my #1 favorite find of the day was a Case Logic brand binder with over 100 CDs and liner notes in it. Metallica? Check. Guns-N-Roses? Check. Plus every other classic metal band that my son enjoys torturing me with. The cost of the case alone would have been less than what I paid for this entire music collection! Needless to say, my son is psyched!

I arranged to get together with a friend later in the week for a chat and a cuppa coffee. Both of us have two kids in college right now, so she didn't blink when I suggested we schlep over to Ikea for their free caffeine instead of hitting up our normal coffee shop. Can't be too self conscious about pride and appearances when choosing to set extreme financial goals.

I gathered a paper bag full of ribbons for someone in my Buy Nothing Group who apparently has an "ongoing project" that requires them. I was surprised by how many I was able to locate, especially since not one of them was something that I'd bought or deliberately brought into my home. My gift wrapping supplies (100% reusable gift bags) now fit much more tidily in their container, and I've put something back into use that was just cluttering up my home. Living a frugal life is also about providing frugal opportunities for others.

I sold a Dansk lid on eBay, I bought five bags of grocery staples at the Grocery Outlet for just $47, I invited a family member over for dinner as they were alone for the week, I reused my neighbor's shipping supplies which she'd have otherwise trashed, I arranged a couple paid articles, I'll be attending a paid four-hour meeting at work, I'm using a silicone menstrual cup that I bought in 2008, (which has saved me countless dollars) and I somehow didn't leave the house today, which ends up being frugal as hell.

I didn't buy a Lear Jet or a vulgar gold-plated apartment in the sky.
Now your turn. What frugal things have you been up to?
Katy Wolk-Stanley    
"Use it up, wear it out, make it do or do without."