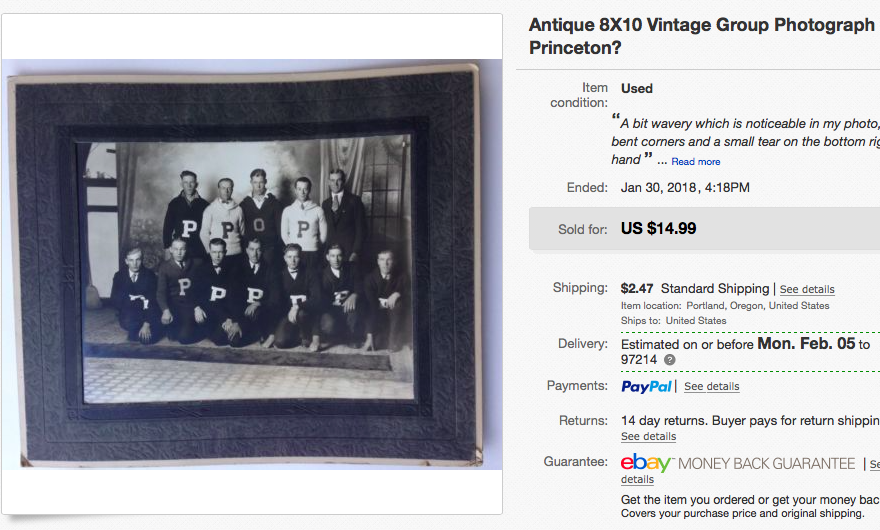 I stopped by the outpatient pharmacy at my hospital and picked up 100-count bottles of Tylenol and Ibuprofen, which allowed me to use my employee discount. I paid $6.59 instead of $16.78 and simultaneously found a penny on the ground. It probably would have been cheaper to buy mega-huge bottles at Costco, but I'd rather imagine a world where and my husband and myself don't require such enormous numbers of anti-inflammatories.

I sold an antique photo on eBay that I bought at the pay-by-the-pound Goodwill Outlet. I'd estimate that I spent 20¢ on it, which makes the $14.99 a decent profit. I pretty much only buy items for resale if it's something that I personally like, and this old collegiate team photo ticked that box. I think I'd had this up on eBay since last spring and am surprised that it finally sold. Luckily I keep my inventory very organized and it's always easy to find items when they sell. (It's in a corner of our spare bedroom.)

Neighbors are moving and set out furniture and boxes of random items with a "free" sign. I stopped by and rifled through the boxes and helped myself to an unopened bag of sun/shade grass seed from a local nursery. I have long given up on having a lawn in the backyard as A) its's extremely shady, and B) it's far from a priority for me, C) I'm unwilling to waste water by watering a lawn and D) I hate gardening. However, I am willing to sprinkle the seed over the supposed lawn area and let nature take its course. Portland will be extremely rainy through mid-June, so I have nothing to lose. Click HERE to see the Instagram photo of said free pile.

I renewed my books through the library website, I got called off from work on Tuesday, (which means I lose 12 hours of paid work) however my husband and I live below our means and can handle income fluctuations, I arranged work shifts through the end of March, I worked on a couple of different Clark Howard article drafts, I bought dull grocery staples at Fred Meyer (Kroger) even though I was in the mood for some fancy Trader Joe's comfort food and I renewed a couple of Craigslist listings that had expired.
Now your turn. What frugal things have you been up to?
Katy Wolk-Stanley    
"Use it up, wear it out, make it do or do without."