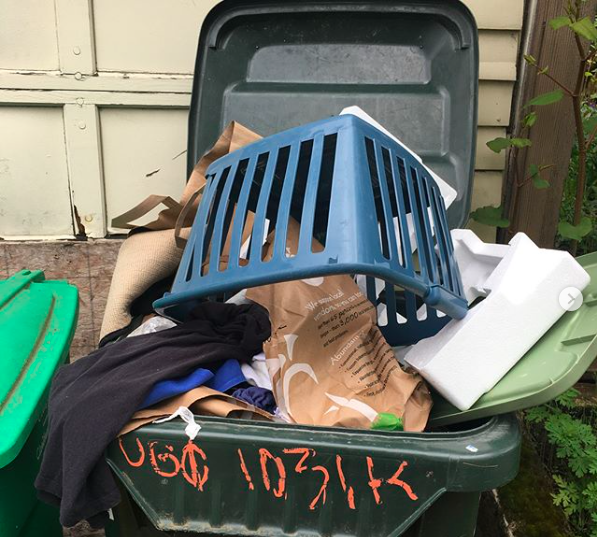 I finished up a group of eBay listings from items that I'd photographed last week. I also relisted a bunch of items that had somehow not automatically renewed. Hopefully I should realize some profits throughout the week from these efforts.

I scrubbed down and listed the Timberland boots that I picked up at Goodwill. Those I'll sell locally as they're heavy and not in perfect enough condition for a picky eBay buyer. (eBay always sides with the buyer, so if there are *any* flaws, the seller can get royally screwed, even when all flaws are described and photographed.)

My husband replaced a $10 part on a Kitchenmaid Professional standing mixer that I picked up at Goodwill for $16. It now works perfectly. We'll sell it locally as it weighs 742 pounds.

I worked two days at the hospital and took call for an additional eight hours one day. I also offered to stay late one day as I had an amazing patient. Sadly, we were fully staffed.

I garbage picked a laundry basket, and by "garbage picked" I do mean literal nasty garbage, as this item was not plucked from some neat and tidy free pile. Why would I do such a thing? I bought a couple of these exact baskets for $2 apiece at Wal-Mart while in nursing school in 1991, and they are somehow still going strong 27 years later. They are so effing sturdy that I expect them to last the rest of my laundry-lovin' days! (I did give it a hose down in the backyard as well as a vigorous scrub with sanitizing wipes.) In an era of planned obsolescence where flimsy laundry basket end up needing to be replaced every few years, I will walk over hot coals for a quality item.

Or in this case . . . shake off some soggy cigarette butts.

My husband and I have been subsisting on budget lockdown meals all week, as the combination of double tuition payments, taxes and my decision to go two weeks without pay hardy have our banks account flush with riches. However, neither of us mind the perpetual meal of rice, beans and veggies to fill our bellies and protect our finances.

I continue to read library books, wear thrifted clothing, (including socks and underwear) enjoy free samples at the expensive grocery store down the street, bring dull leftovers to work and accept the generosity of others, (my mother is taking my son and I to lunch this afternoon as he's home for the first Portland Timbers home game, and my husband scored free tickets to tomorrow's Thorns women's soccer game!)

I didn't buy a Lear Jet or a vulgar gold-plated apartment in the sky.
Now your turn. What frugal things have you been up to?
Katy Wolk-Stanley    
"Use it up, wear it out, make it do or do without."