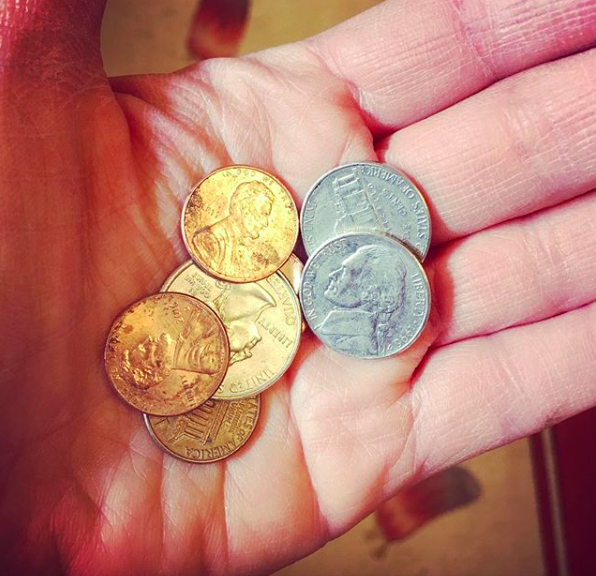 My husband and I drove four hours to bring our son back to school on Sunday. Instead of using it as an excuse to enjoy a nice restaurant meal together, we took one for the team and chowed down on $1.50 Costco hotdogs as we were already stopping for cheap gasoline along the way. We also packed our own coffee instead of caffeinating up at Starbucks which had somehow become a routine. The way I calculate it, we saved at least $40. We enjoy supporting local restaurants and treating our son to nice meals, but we're on budget lockdown and we can't bury our heads in the sand. For those who may question the nutritional value of a hotdog, I'm counting sauerkraut as a vegetable.

I sold a Heywood Wakefield "tall lamp table" that I'd picked up at the Goodwill Outlet. My plan had been to refurbish it myself, (the finish was in terrible condition) but my motivation was exactly what you'd expect when the opportunity for outdoor projects relies on sunny weather and I happen to live in Portland, Oregon. Within hours I had two interested buyers, and it had sold by evening.

I attended a 4-1/2 unit meeting at the hospital even though the thought of the hour long commute for such a short event drives me crazy. I poured myself a free cup of coffee from the labor and delivery unit and reminded myself that the extra hours would be a welcome addition to my next paycheck. These meetings are mandatory, but I have a tendency to put them off, so I'm patting myself on the back that I got my tuchus into the very first one.

I walked to the grocery store and found a quarter, two nickels and three pennies, I prepared an enormous batch of cabbage patch stew, (and even cooked the kidney beans from scratch) I'm using the same menstrual cup that I bought in 2008, my husband in actively shopping for a new cell phone provider as we're currently paying too much, (it looks like we'll go with Xfinity Wireless) I enjoyed hanging out with my friend Dezsea this morning which involved the cost of a single tea bag, I'm getting together with my friend Lise this afternoon which will occur at the Goodwill Outlet and I'm hosting my friend Carol tomorrow, which'll set me back the price of a bowl of cabbage patch stew. Yup, I'm a cheap date!

I didn't buy a Lear Jet or a vulgar gold-plated apartment in the sky.
Now your turn. What frugal things have you been up to?
Katy Wolk-Stanley    
"Use it up, wear it out, make it do or do without."