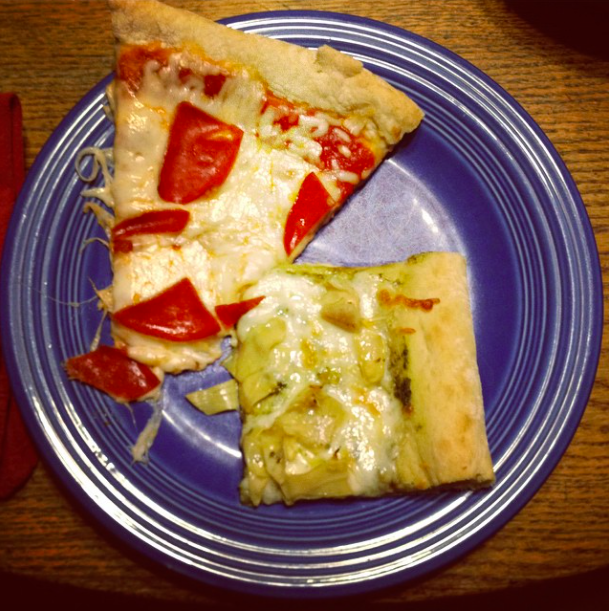 I whipped up a batch of cornmeal pancakes this morning, which sadly resulted in five pancakes. (Three of us at home + five pancakes = the world might end.) No problem though, as it was just the work of a minute to add in a few slices of french toast to even things out. However, there was some extra egg/milk mixture, which turned out to be the exact amount to make a single hot dog bun/french toast. No food waste here!
I made $10 selling two unopened cans of infant formula left behind by my mother's guest cottage tenants, which also included a bag of miscellaneous baby items. The retail value of the formula was $35, so it was a great deal for the buyer. Putting the Craigslist listing together took maybe five minutes, and since the buyer picked it up from my front porch, my end of the deal was almost zero effort.
I recently broke my best pair of thrifted sunglasses, which meant I was using a not so fantastic pair of freebie fake Ray-Bans Wayfarers. I did have a decent backup pair, but both arms had fallen off. I was able to find one teeny-tiny screw, but that was it. So yesterday I walked down to my local glasses store and asked them if they had another screw that would fit. They wouldn't take any money for the job, and I now have a perfectly functional and not so dorky looking pair of sunglasses without having to buy anything. Plus, I absolutely saved something from going into the garbage.
I'd been toying with the idea of canceling my twice-a-week local newspaper subscription, and finally just took the plunge. What prompted this change? My neighbor posted on Facebook about how she's starting to get The NY Times, and was wondering if anyone wanted to start getting her day-old papers. This seemed like the perfect solution for my family, as we pretty much get our local news from the internet these days anyway. My savings will be $12 per month, which will put $144/year back into our pockets. Plus, The NY Times is simply a more enjoyable newspaper!
Dinner last night was homemade pizza, as it is every Friday night. Toppings were cheap stuff from The Grocery Outlet, (pepperoni and artichoke hearts), a big green salad balanced things out. This weekly tradition not only saves us money, but simplifies our week as I never have to give a thought as to what Friday's evening meal will be.
Now your turn. What frugal things have you been up to? 
Katy Wolk-Stanley
"Use it up, wear it out, make it do or do without."