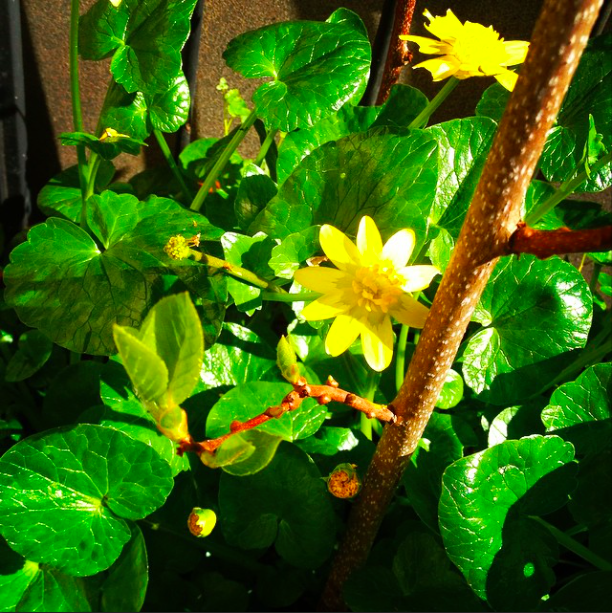 I stopped at The Grocery Outlet on my way home from dropping my son at school this morning. Among other things (cat litter, cumin, bananas, broccoli, energy bars, peanut butter, tortillas, avocados, jam) I got ten small containers of Müller brand chocolate-mint yogurt for 10¢ apiece. (You know it's a fancy brand when there's an umlaut!) I rarely buy small yogurts, so these treats will be greatly appreciated. I already sampled one, and it was über-delicious!
My neighbor was mailed a small bag of cat food, despite not actually having a cat. She knew we have two cats and are not too proud about receiving free things. I went ahead and mixed it into our bin of Costco cat food, and I'm happy knowing there's two-three extra days of food for Zelda and Hyena that I didn't have to pay for.
The weather was warm enough in Portland yesterday that I was able to turn off the furnace for most of the day. I did set it up again before I went to bed, as I've learned that it's hard enough to drag ourselves out of bed in the morning without a freezing cold house to contend with. We have a programmable thermostat, which is I love. I set it for 63º during the day, and 57º at night. And as cold as that sounds, we're all very comfortable and there are zero complaints. (Except from my mother, who has confessed to wearing long johns under her jeans when she visits!)
My huge garbage picked flowerpot recently sprouted with some very pretty volunteer flowers. I grow kiwi in this pot, but have some other pots essentially filled with dead plants, so I'll go ahead and transplant the flowers. I have a couple dozen terra cotta pots throughout the garden, and not one of them has a plant in it that was paid for. That's right, my garden is 100% volunteer and freebie based! Thank you, random bird who pooped pretty seeds into my garden!
We're having my mother and step-father over for dinner tomorrow to celebrate his birthday. I'll make oven barbecued chicken thighs, rice and broccoli. Dessert will be a homemade cake so the evening will be entirely frugal, yet entirely celebratory. And will end with a wonderfully inappropriate round of Cards Against Humanity. (So awful, yet so wonderful!)
Now your turn. What frugal things have yöu been up to? 
Käty Wolk-Stanley
"Use it up, wear it out, make it do or do without."