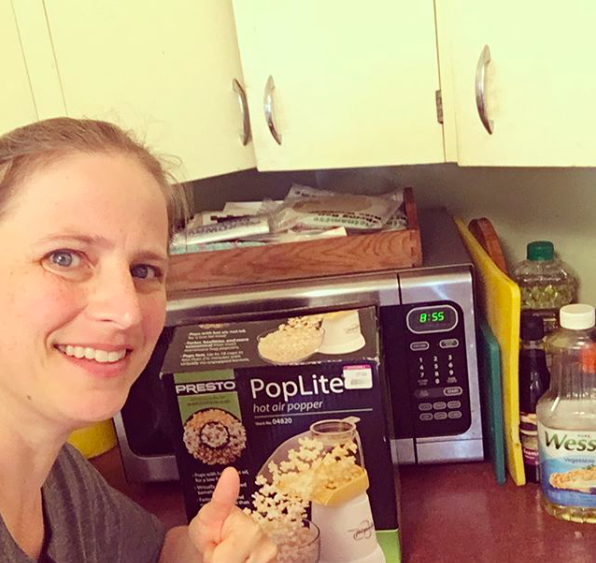 I discovered that I somehow had a $10 gift card credit on my Starbucks app, and have been slowly dipping into it to treat my son to Frappuccinos. We even bring our own cups in an attempt to decrease the amount of garbage created from this rare indulgence.

I prepared a batch of kidney beans in my slow cooker for a Mexi-bowl type of dinner. It was 99° F in Portland yesterday, so I plugged it in on our front porch in an attempt to avoid heating up the kitchen. (I make sure to place the slow cooker in an area where no one will trip over it and burn themselves.) However, my mother called me up and offered to take us out to dinner, so I deferred this plan as a restaurant meal sounded immensely preferable. We'll enjoy our Mexi-bowls tonight, and you know I'll be plugging the rice cooker into the porch outlet as well!

Air conditioned restaurant > sad porch beans!

Thanks, mom!

I made myself some popcorn using a plain brown paper bag in the microwave, which has been my frugal hack for a number of years. However, I got greedy and reused the bag, which then CAUGHT ON FIRE IN A RATHER DRAMATIC FASHION!

So, yeah . . . I'm done with this frugal hack.

However, my son and I were perusing local Goodwills and I came across a new-in-box air popper, which now lives in my kitchen awaiting my commands. Because there's nothing frugal about saving a few cents while having to replace a burned down house!

I gave away a radio and lent out our staple gun through our buy nothing group, I'm enjoying a thriving flowerpot of red potatoes that I planted from accidentally sprouted spuds, (especially since they're starting to flower!) I used my Fred Meyer (Kroger) points to inexpensively fill up our gas tank, I'm sprucing up a cute midcentury thrifted end table to ready it for resale and I picked up two abandoned hair elastics to wash and use for my own ponytails.

I didn't buy a Lear Jet or a 

vulgar gold-plated apartment in the sky

.
Now your turn. What frugal things have you been up to?
Katy Wolk-Stanley    
"Use it up, wear it out, make it do or do without."