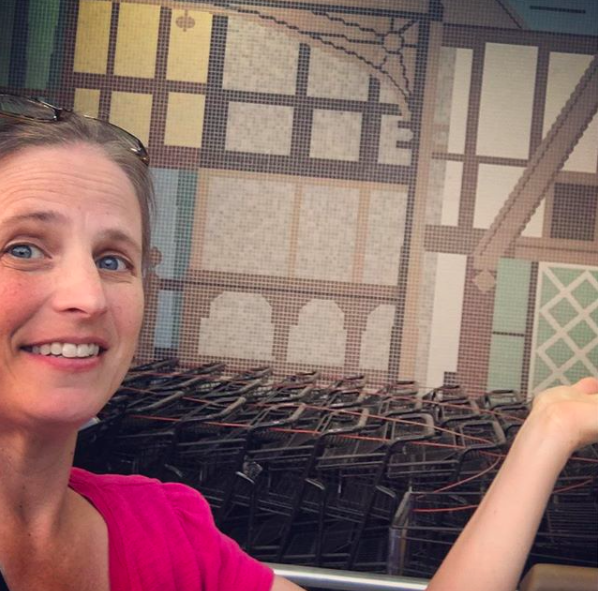 I've been forcing myself to buy our groceries from Winco, even though it's not as convenient as the Fred Meyer (Kroger) that's a few blocks from the house. Their food is significantly less expensive, but . . . it's a major schlep from the house. However, I end up doing a more organized trip which saves me from shopping on an almost daily basis. Plus, their bulk food section is beyond amazing!

My husband and I drove down to Ashland to move our daughter out of her college apartment. It's a 5-1/2 hour trip each way, so it was tempting to stay two nights instead of one. Instead, we buckled down and took care of everything on days that included long drives. Ashland, Oregon is the home to the Oregon Shakespeare Festival, which makes it an expensive area to rent a hotel room. (Even the Safeway has a Shakespeare theme!) We kept the budget low by stopping for food and gasoline at Costco, although we did splurge on a couple of nice meals.

I downloaded the Overdrive library app onto my husband's phone, (he has unlimited data) which allowed us to enjoy a free audiobook for the drive home. And before you ask . . . yes, it was a Star Trek book. #LLAP

My husband and I celebrated our 25th anniversary, and were perfectly happy to enjoy the happy hour menu in the Jake's bar instead of sitting in the regular restaurant. It's about the company we keep.

I read four library books, I mended two T-shirts and a fitted sheet, I repaired a camp/soccer mom chair and I packed leftovers for tomorrow's work lunch.

I didn't buy a Lear Jet or a 

vulgar gold-plated apartment in the sky

.
Now your turn. What frugal things have you been up to?
Katy Wolk-Stanley    
"Use it up, wear it out, make it do or do without."