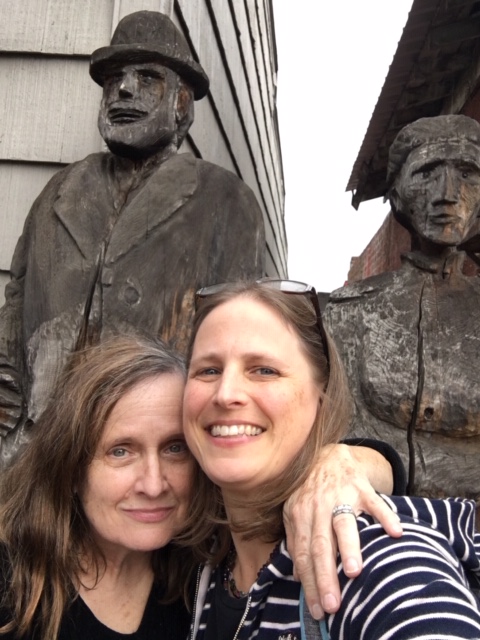 My mother and I celebrated her 76th mother's birthday by indulging in a Birthday Day of Adventures. (We'd gone to dinner last week, but I hadn't given her a physical gift.)

We ended up at the Linn County Historical Museum located in Brownsville, Oregon. Sure, it's an hour and a half from Portland, but I'd briefly been there once and knew it was right up my mother's alley. (Plus their suggested donation policy brings the admission price down to a reasonable amount.) Needless to say, it was a hit. My mother made fast friends with the curator Joni, who even snuck us in for a free quick and dirty tour of the 137-year-old Moyer House, which would've normally set us back $5 apiece.

The funny thing is that I'd just been talking about how I'd always wanted to do one of those cheesy ole western photo shoots, but was too cheap to pull the trigger. ( <– Such a great pun!) And wonder of all wonders, this museum had free replica pioneer clothing available for dress ups, photo ops and shenanigans! For free! Needless, to say . . . things got silly.

We also worked in some thrifting, (shocker, right?) hitting both the Goodwill Outlet here in Portland as well as the regular one in Albany, which has recently risen to the top to become my favorite store. (Hello, $12.99 midcentury modern desk!)

I did pick up a few things to sell, (Snoopy mugs, Ugg slippers, a vintage macrame hanging light, a framed painting and a Nightmare Before Christmas plush) as well as a couple items to keep, (two Williams Sonoma dish towels and a specific round stacking stool that I always keep an eye out for as they're infinitely practical as end tables/seating/bedside tables.)

I sold a pair of Rothy shoes and a vintage macrame kit on eBay, as well as a pair of Danskos and (hopefully today) a pair of vintage Snoopy waterskis through Facebook Marketplace. I also gave away an Edible Arrangements kit and an embroidered pillowcase through my Buy Nothing Group.

My husband has been out out town all weekend, so I cooked up a big batch of bulk purchased brown rice and black beans and have been assembling meals from it over the past couple of days. Simple, cheap and yummy, especially since I buy Costco sized jugs of chunky salsa at The Grocery Outlet for just $2.99 apiece. I could see myself being one of those people with a $50 monthly food budget if I lived alone.

I finished reading my library copy of Money Diaries: Everything You've Ever Wanted to Know About Your Finances & Everybody Elses, I rounded up a number of items I've been meaning to sell on eBay and actually listed them, I watched random dumpster diving YouTube videos while listing on eBay, my husband fixed our refrigerator, which was leaking water from a broken ice maker, (it's 20 years old, and I imagine that many others would use this issue an an excuse to buy a new one) I ordered cheap pizza for dinner as our kitchen was a mess of leaking water and sopping wet towels, I used a $5-off-$15 Target coupon plus an e-coupon to buy all our Halloween candy, I saved the cost of a stamp for my mail-in ballot as I'd brought my daughter into the election office to change her address, (we Oregonians vote by mail) and I reused second hand packaging for all my eBay sales.

I didn't buy a Lear Jet or a vulgar gold-plated apartment in the sky.
Now your turn. What frugal things have you been up to?
Katy Wolk-Stanley    
"Use it up, wear it out, make it do or do without."