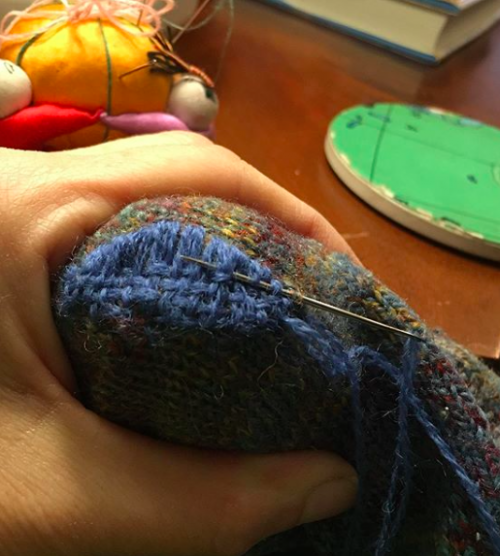 I sold a number of things including a locally made silkscreened pillow, as well as Lenox snowman figurine that I picked up for 18¢ at the pay-by-the-pound Goodwill bins. I also listed a couple more items such as a Dyson vacuum cleaner canister/filter and a North Face backpack. All these items (other than the pillow, which was $2.99 from a regular Goodwill) were bought at the bins. Yes, I had to scrub down the Dyson canister and the backpack, but they're now as good as new. There's gold in them-thar bins! Yee-haw!

I mended a pair of hand knit socks that I'd set aside at least six months ago, as they had a hole that was likely to worsen with wear. They're not perfect, but since zero percent of my friends and family spend time scrutinizing the bottoms of my socks, they're now good to go. I feel like I got a brand new pair of socks for free!

I mixed up a big ol' pot of chili, which included some browned bulk sausage that I'd stuck into the freezer last month. I also threw in some random Chick-fil-A dipping sauces leftover from when I stopped by for a freebie over the summer. It added an extra zip, and there's juuuust enough left to pack up for my next work lunch. Needless to say, I started with bulk-purchased dry beans.

I set up our garbage picked Christmas tree that I pulled out of a dumpster three (four?) years ago. It came from a real estate company that had shuttered its doors, so I suspect that my tree lived its previous life staging houses for sale during the Christmas season. I never thought I'd been an artificial tree enthusiast, as Oregon supplies a large percentage of Christmas trees to the U.S., but I gotta say that getting rid of an annual purchase is pretty sweet. I'm in full support of anything that banishes a recurring expense! 

I didn't buy a Lear Jet or a vulgar gold-plated apartment in the sky.
Now your turn. What frugal things have you been up to?
Katy Wolk-Stanley    
"Use it up, wear it out, make it do or do without."Click HERE to follow The Non-Consumer Advocate on Twitter.
Click HERE to follow The Non-Consumer Advocate on Instagram.
Click HERE to join The Non-Consumer Advocate Facebook group.
Click HERE to follow The Non-Consumer Advocate on Pinterest.