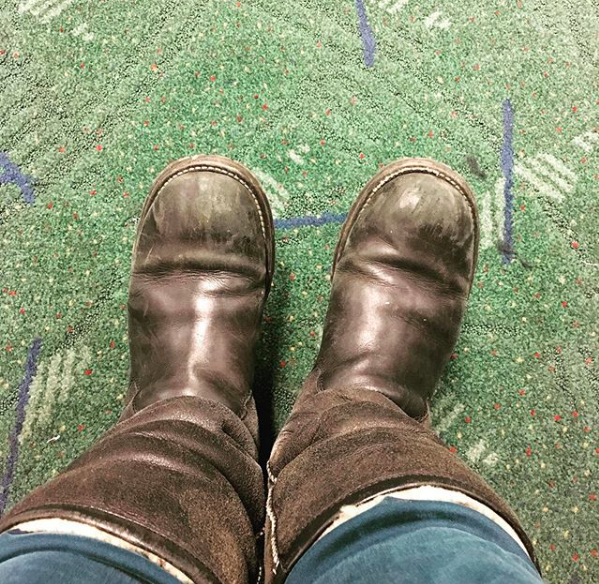 I sold a few items including a landscape painting, some midcentury wall hangings and two brand new sets of Spanx pantyhose. The latter sale was an odd one, but I took a chance on picking up three pairs at Goodwill, as they were priced for 99¢ apiece despite the original Nordstrom price tag of $19.99. I still have one more pair for sale, and expect them to sell quickly as the first two sold overnight.

I'm flying to New York City and took the time to pack a ham sandwich, cheese, eggs and tangerines. The trip only takes five hours, but once you add in the Portland airport time plus transportation from the NY airport to my sister's apartment, my food needs to cover breakfast, lunch as well as the multiple snacks that I normally mindlessly cram into my mouth enjoy throughout the day. I also packed a small box of chocolates for the flight attendants as a thank you gift, although I should have probably brought some for the poor TSA agents who are pointlessly working without pay.

I'm arranging to do eight hours of paid education hours through my hospital. I earned this perk by working a certain number of hours in 2018, and can make sure to get these hours onto the next paycheck that would otherwise be empty due to my traveling.

I created a Frankenbox out of used packaging materials to mail out the midcentury wall hangings, my husband and I continue to eat our way through the enormous free-from-work ham and I scored a used pair of jeans that are my favorite brand/my size. I recently discovered that they're an expensive brand, (think $100+) which I hadn't realized as I'd bought them at the pay-by-the-pound Goodwill. I'm extremely excited.

I didn't buy a Lear Jet or a vulgar gold-plated apartment in the sky.
Now your turn. What frugal things have you been up to?
Katy Wolk-Stanley    
"Use it up, wear it out, make it do or do without."