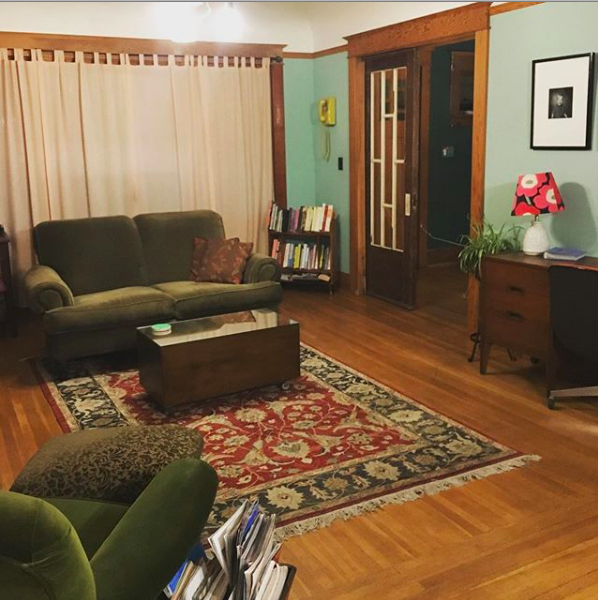 After tremendous complaining, whining and stalking of Facebook Marketplace, I finally found a couch to replace the one my cat destroyed in December. Sure, some might classify it as a love seat, but it's actually pretty big, and at the low low cost of fifty bucks it's definitely on budget. I'm just crossing my fingers that neither of my cats mistake it for a litter box.

I was able to use a frequent buyer punch card to get a free entree at a local restaurant, which represented five lunches out with my father. Thanks, Dad!

My eBay sales have been a bit stagnant over the past week, as all I sold were a pair of napkin rings and some paper Fiestaware napkins. However, I took it as a opportunity to organize the corner of the spare bedroom where I store the eBay supplies, and discovered a half-dozen or so items that somehow hadn't been listed. Nothing that'll sell for a tremendous amount, but still worth the effort. Plus, the area is much less of an eyesore, which is a win in my book.

I dropped off a book at my local Little Free Library, and later took one which I gifted to a friend, I made dinner from scratch when all I really wanted was to get takeout, (please note that this is a daily struggle) I packed leftovers for work lunches, I bought two Container Store organizing bins at Goodwill, which I then used to organize my kitchen towels/rags, (weirdly excited about this one as they fit perfectly into my narrow pantry and utilize the vertical space in a way that the previous bin didn't) and I'm getting a free beveled-glass full-length mirror from my friend Lise.

I didn't buy a Lear Jet or a vulgar gold-plated apartment in the sky.
Now your turn. What frugal things have you been up to?
Katy Wolk-Stanley    
"Use it up, wear it out, make it do or do without."