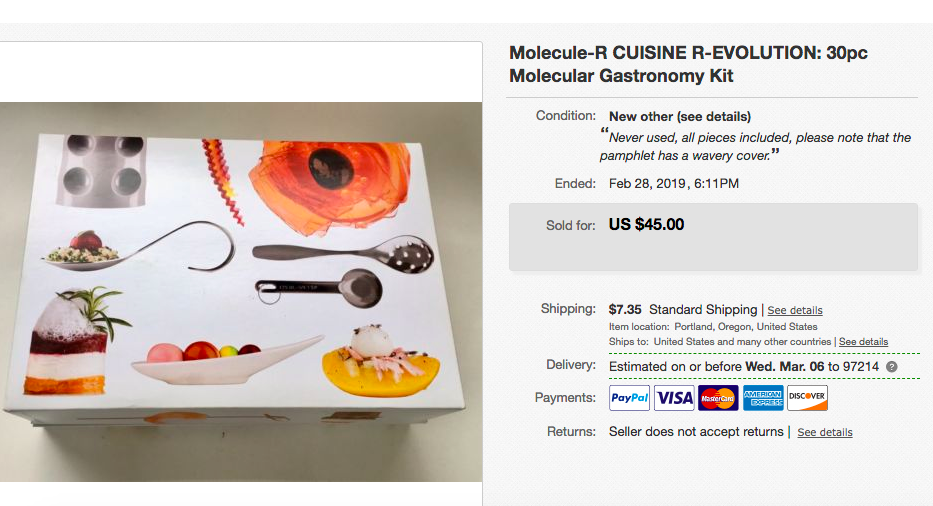 I sold a snowboarding jacket that I'd picked up from the pay-by-the-pound Goodwill bins, as well as a vintage florist's frog and a bizarre kit that converts food into a frothy substance that frankly looks like saliva. I'd received it as a gift, and it's now on its merry way to Puerto Rico. I could easily have let it sit on a shelf or donated it to Goodwill, but instead I turned it around for $45 and some random dude across the world gets that one thing that he's been wanting.

It may seem hypocritical for "The Non-Consumer" to sell things, but I'm pairing difficult to find items with people who would otherwise buy new.

Things were slow at my labor and delivery unit this week, and I was ordered to stay home for eight hours of a 12 hour shift. My phone rang as I was on my way in, but I didn't answer it as A) I was driving, and B) I pretty sure they were telling me to stay home. I'd already confirmed that I was to come in, so I continued my commute. They were indeed giving me the opportunity to stay home, but my union has specific rules for these circumstances so I'll receive my four hours of pay. And you already know that I enjoyed a cup (or two) of their free so-so coffee. Plus, there was enough work for me helping others with their deliveries.

My stepfather had a birthday, so we hosted the gang at my house for dinner. I made an Asian style chicken vaguely based on this recipe, as well as rice and broccoli. I baked up a gluten-free box cake that was not only dry but also flavorless, although I balanced it out with a polar vortex of icing. My gift was the meal, plus I deliberately prepared enough to send him home with enough leftovers for another full supper. Nobody needs more stuff, but we do all need delicious food!

I picked up the first season of Star Trek: Discovery from the library. (I think it put it on hold summer of 2018, which says a little something about how much Portlanders love both Star Trek and their libraries.) I'd binged it using a free 30-day trial last year, but wanted to watch it again. My daughter hasn't seen it yet, so we now have three weeks to blow through it together. This newest Star Trek series really does hold up to the hype! I'm hesitant to make such a bold declaration, but I think I like it even more than The Next Generation.

I didn't buy a Lear Jet or a vulgar gold-plated apartment in the sky.
Now your turn. What frugal things have you been up to?
Katy Wolk-Stanley    
"Use it up, wear it out, make it do or do without."