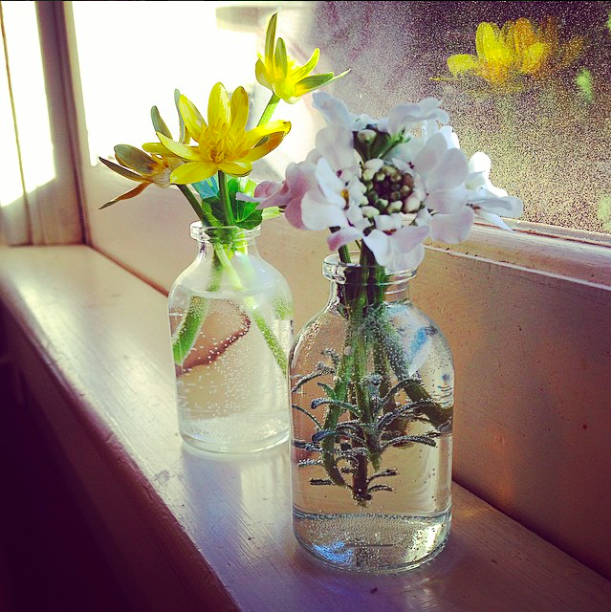 Last night's dinner was an amalgamation of leftover meals, and like the rare snowflake, no two were the same. My younger son enjoyed a large bowl of black bean chili with shredded cheddar cheese, while my older son chowed down on a kale pesto-broccoli scramble with brie cheese. My husband ate a black bean and rice burrito and I finished off the last of some kale pesto and navy bean ziti. Now, my refrigerator is no longer littered with single serving leftovers edging towards the compost bin, and I get the satisfaction of freeing up five Pyrex containers!
I got rid of my only pair of sneakers, as I had used shoe-goo on then in a way that made the right one uncomfortable. (Don't worry, I took them to a Nike store to be ground up for playground surfaces.) However, even non-sporty me is in need of sneakers every now and then. Luckily, my younger son wears the same size shoes as I do, and plans a career in shoe design, so the selection is massive. I would't dare to borrow ones he bought new, but he's perfectly fine with me wearing one of his Goodwill pairs. Which is good, because everyone knows that Goodwill is my thang.
As much as I enjoy filling vases with large flower arrangements, oftentimes the only flowers in my yard are teeny tiny. However, I have a few glass Lidocaine jars from work that I use for miniature vases. Certainly frugal and absolutely adorable. At least the eight-year-old girl inside of me seems to think so!
I'll be cleaning one of my mother's guest cottages today to A) help my mother out, and B) make some extra money. Also, my mother's going to take me out for lunch as a thank you. I can't remember the last time we went to a restaurant!
I've been continuing my declutter my house, and it's amazing how much better it looks with less stuff. (Not that I was any kind of hoarder to begin with.) But instead of improving my home by shopping for new stuff, I'm improving my home by providing space and air around the nice things I choose to keep. Sometimes less really is more!
Now your turn. What frugal things have you been up to? 
Katy Wolk-Stanley
"Use it up, wear it out, make it do or do without."