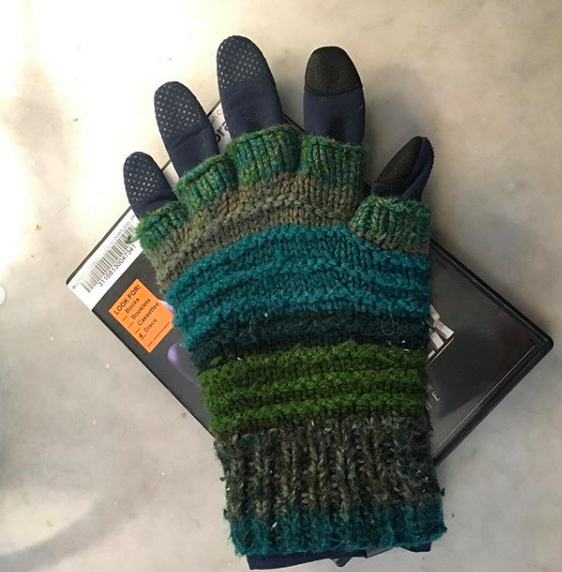 I sold a pair on Danskos through Facebook Marketplace as well as a Starbucks travel mug through eBay. I rewrote a couple of Facebook Marketplace listings and then cross posted them on Craigslist, and body surfed coasted on the momentum to list a few new things on eBay.

I was almost out of checks, so I stopped by my credit union to have them print out a dozen free "temporary checks." Because I rarely write checks in the internet age, these ones will likely set me for the entirety of 2019. This may seem hardly worth the effort, but the cumulative effect of a thousand frugal decisions keeps me financially on track.

Whatever it is that's the opposite of "death by a thousand cuts," this is it. Maybe "success by a thousand frugal hacks?" Not as catchy, yet ever so practical.

I brought home and laundered a nicely hand-knit glove that I found in the library parking lot. (It looked like it had been there for a couple of days.) The sad thing was sodden and filthy, so I doubted the library could put it into their lost and found box. Now it's nice and clean, so I'll drop it off the next time I stop by the library. Hopefully it'll make its way to its owner. If not, at least I gave it one last chance.

I stopped by my husband's workplace to pick up free boxes for a friend  who's moving, I'm repeatedly enjoying scratch cooked black beans with roasted sweet potato cubes for meals, as they're damned delicious and ridiculously frugal, I went on a "Goodwill Outlet date" with my friend Lise, where I picked up two pairs of pants, ("trousers" for you Brits) as well as a nest of vintage curtain rings. I've listed the curtain rings on eBay, and have have already worn both pairs of pants, which miraculously both fit perfectly.

I didn't buy a Lear Jet or pay $500,000 to bribe my kids' entrance into college.
Now your turn. What frugal things have you been up to?
Katy Wolk-Stanley    
"Use it up, wear it out, make it do or do without."