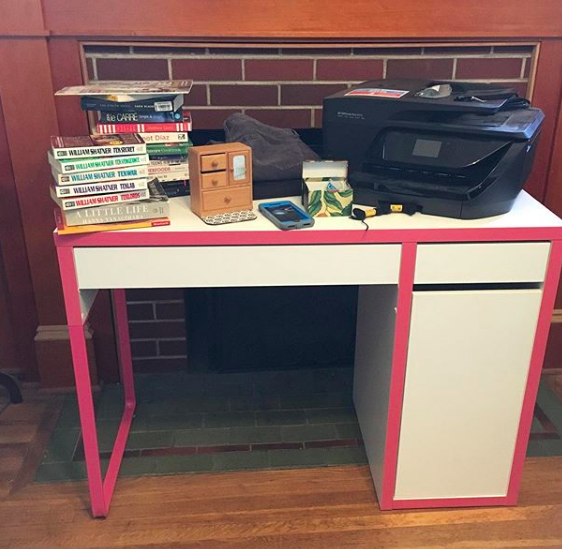 I sold a few things including the free FitBit that I got for participating in a wellness program, two vintage lighting globes and some video games/DVDs from a free box. Not crazy impressive, but better than a swift kick to the tuchus.

My son got a well paying job within a few days of arriving home from college. And as much as my husband and I could have used our connections to boost his likelihood of finding employment, he independently found this job by doing a web search for "jobs" plus "Portland." It pays well, is full time and is even close to the house!

I look forward to him going back to school in the fall with a fat credit union account.

My mother and I spent a couple hours cruising around a nearby wealthy neighborhood that had just completed their annual garage sale day. Although I didn't find as many brag-worthy treasures as the one I hit a few weeks ago, I still came home with enough stuff to deem it a successful outing.

I brought home:
– A desk to sell.
– A working printer for my son to bring back with him to college.
– A fat stack of books to try and sell to Powell's.
– Two pairs of NYJD jeans to sell on eBay.
– A cell phone case for my daughter. (Her's looks like it went through a wood chipper!)
– The aforementioned box of DVDs/video games which I immediately sold to a local store.
– A handful of miscellaneous stuff such as a skein of wool, a pretty box for eBay packaging, a toy wooden dresser, a recent magazine and a coaster.

A different wealthy neighborhood will complete their two-day garage sale event this afternoon, so I'll spend an hour or so meandering through that area this evening.

I used up a batch of scratch cooked black beans and prepped another, I read a library copies of Rhys Bowen's The Victory Garden and David Sedaris' Calypso, I took advantage of a local grocery store's 50%-off Tillamook ice cream deal, I walked to the library to replenish my reading options, I stopped into various Goodwill thrift shops while running otherwise dull errands, (Costco for cat food. Yawn . . . ) I listed more stuff on eBay and I stopped at a 76 gas station to fill up my Prius and earn another voucher for two free MLS Thorns tickets. The attendant spontaneously gave me three vouchers without me even asking. Since I'm attempting to sell them for $12 apiece, that's a potential $72 profit!

I didn't buy a Lear Jet or a vulgar gold-plated apartment in the sky.
Now your turn. What frugal things have you been up to?
Katy Wolk-Stanley    
"Use it up, wear it out, make it do or do without."