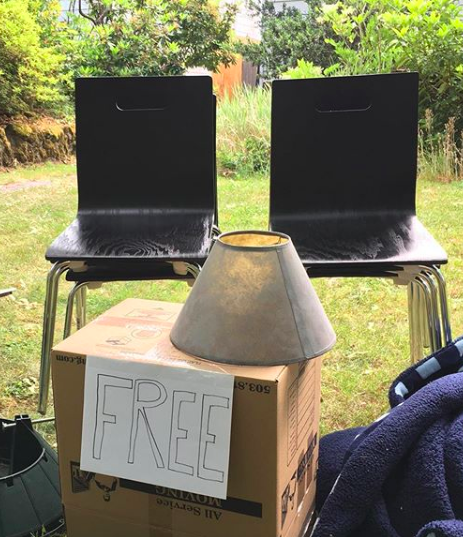 My eBay woke from a deep slumber and I sold three items in a single day. (A keyboard, a video game and a vintage marble bowl) Of course, it went right back into a hibernation after having exerted all that effort. I then sold a desk, (the pink and white one from the last blog post) a set of six stacking chairs and a pair of Sanita/Danskos. I also took a box of free books to Powell's and earned $14 in store credit.

Not too shabby considering that it's only Thursday.

My son and I spent an hour or so perusing the aftermath of another neighborhood's garage sale day. (Needless to say, we went in the late afternoon when people were inclined to set any unsold stuff out with a "free" sign.) Although there wasn't much to choose from, we got lucky and scored the aforementioned stacking chairs, which were "Isaac Mizrahi for Target," as well as a silverplate coffee set that might actually be worth a couple hundred dollars. We also helped ourselves to a Nike baseball cap, miscellaneous books and a leather purse.

After hitting up Powell's I donated the leftover books to Goodwill, except for one which I set onto my to-read stack. I happily accepted the donation receipt for my 2019 taxes.

My son and husband went to see the band Mastadon in concert, which was our 21st birthday present to him. I no longer recall the cost of the tickets, (not cheap!) but this experiential gift far outweighs any thing that we could have purchased from him. The two of them had a terrific evening out together, which will be a memory to outlast any physical item.

Experiences > Stuff

I slathered a $4.99 thrifted table with some Restor-A-Finish to ready it for resale, I started reading another library book, my father treated me to lunch, I brought home a graphing calculator from a free box, I cobbled together a faux Pine State Biscuits dinner for my family, even thought it meant having to bake a separate batch of gluten-free biscuits for my daughter, (still cheaper than eating out) and I downloaded a free audiobook of H.G. Wells' The Time Machine through the Libby app.

I didn't buy a Lear Jet or a vulgar gold-plated apartment in the sky.
Now your turn. What frugal things have you been up to?
Katy Wolk-Stanley    
"Use it up, wear it out, make it do or do without."