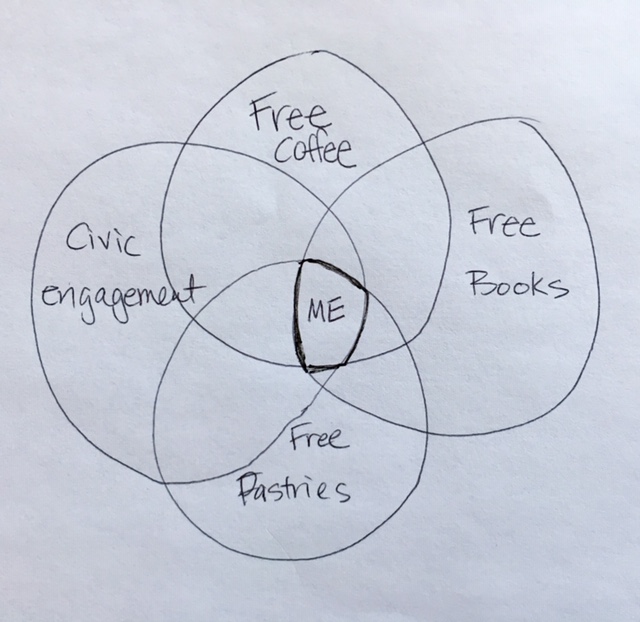 I've been slowly but consistently selling things through Facebook Marketplace, Craigslist and eBay all week long. No super-wow-amazing-impressive flips, but together they added up to a financially respectable amount. This included another pair of Danskos, a groovy old light fixture, a vintage office chair, a book and two more freebie soccer tickets.

I have someone supposedly coming tomorrow to pick up a cute 1960s suitcase, although I know to hold off counting that chicken until it hatches.

My county commissioner held an informational meeting at a nearby library, and I'm not too proud to admit that I was sold by the promise of "free coffee and pastries." It was actually very interesting, and I enjoyed increasing my knowledge of various community concerns.

Of course, the combination of civic engagement with free coffee and pastries, all in the presence of free books practically demands my presence.

I helped myself to a coffee, a sprinkled donut and a Lucky Day copy of A Woman of No Importance by Sonia Purnell.

I received a email reminder about my son's July rent, so I got on the horn with the property management office as his lease actually ended on June 30th. This company has high turnover, which in the past has meant that an employee ensured me that some issue was of no concern, and yet was long gone by the time it did become an issue. I confirmed that they had the correct information, and then had the person send me an email confirming that we were in no way responsible for July's rent.

This may sound paranoid, but getting things in writing is never a regret.

My neighbors are heading out on vacation, so they gifted me fresh peas and lettuce from their CSA box, I created a dinner that used up three (THREE!) half-used boxes of pasta, I gleaned a free enormous cardboard box from a local business after hitting up an appliance store that was going to charge me, I almost bought tickets to visit my sister in NYC and then hit the brakes as the tickets were $420+ apiece, (I'll continue my search for cheaper tickets) I pulled a handy not-too-big-not-too-small box from a neighbor's recycling bin, (perfect size for eBay) and I socialized with friends by going for walks, sharing errands and simply chatting on our front porches.

I didn't buy a Lear Jet or a vulgar gold-plated apartment in the sky.
Now your turn. What frugal things have you been up to?
Katy Wolk-Stanley    
"Use it up, wear it out, make it do or do without."